Message from the President

Joseph V. Falanga, CPA, AEP®, TEP
FTI Consulting

Dear Colleagues,

The 48th Annual Conference, our signature event, is roughly two and one-half months away—will you be there? In addition to offering two full days of continuing education and credit, phenomenal national speakers, and a fabulous look at San Antonio from the River Walk, the conference provides a networking opportunity that just can't be found in our virtual world of today. Registration is open and the early bird discount expires September 30th, don't delay!

The NAEPC Education Foundation has come a long way in its few short years of existence. With the publication of the 2010/11 Foundation Report, the organization is moving "full steam ahead" with a grassroots fundraising and awareness campaign, activities during National Estate Planning Awareness Week 2011, and many more exciting initiatives. Please read on for more information. We encourage and gratefully accept contributions from individuals, businesses, and affiliated local estate planning councils—those interested in doing so can find the information here.

NAEPC seeks your input on the 2011 Industry Trends Survey, presented by WealthCounsel and Trusts & Estates magazine. Your participation will assist us in understanding your thoughts on the many recent changes in the profession, a bit about you and your practice, as well as where NAEPC overlaps with other organizations and designation programs. Thank you for your consideration and participation! The survey can be found by following this link:

www.wealthcounsel.com/2011_industry_trends_survey.aspx

Finally, as I move into the final quarter of my presidency, I wish to thank every affiliated local estate planning council leader and member, and our many Accredited Estate Planner® and Estate Planning Law Specialist designees for a great nine months of service. This has been an exceptionally exciting time to be involved with NAEPC and The NAEPC Education Foundation!




Our definition of estate planning...
Estate planning encompasses the accumulation, conservation, preservation, and transfer of an estate through planning and implementation of an estate plan. The overall purpose of the estate planning process is to develop a plan that will maintain the financial security of individuals and their families.
Read more >

48th Annual Conference
The NAEPC / The NAEPC Education Foundation 48th Annual Conference is scheduled from November 16 - 18, 2011 in historic San Antonio, Texas. The full registration brochure, online reservation links, and general information can be found at http://www.naepc.org/convention.web.
The NAEPC / The NAEPC Education Foundation annual conference is fast becoming the "go-to" event for estate planners throughout the country! Our exciting line-up of nationally-recognized speakers, coupled with a fabulous location on the Riverwalk and incredibly competitive registration and guest room fees, make the 48th Annual Conference an event that is not to be missed. With the addition of national continuing education credit in 2009*, the event has become a signature program within the estate planning community.
Sponsorships are still available! The NAEPC Education Foundation / NAEPC 48th Annual Conference provides a unique and affordable opportunity to reach estate planners through sponsorships of the annual conference. Those that have an interest can review the conference sponsor kit or contact Jim@naepc.org for more details.
It's not too early to plan for 2012... the 49th Annual Conference will take place November 7 - 9, 2011 in Orlando, Florida.
*Continuing education credit will be available for AEP® designees and will be requested nationwide for accountants, insurance professionals, attorneys, Certified Financial Planners® and Certified Trust and Financial Advisors. Approval status can be found online at www.naepc.org.
The 5th Annual Industry Trends Survey is Now Open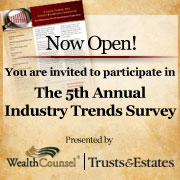 NAEPC members are invited to participate in the 5th Annual Industry Trends Survey—the estate planning industry's only source for comprehensive insight on emerging trends. Take the survey now. The survey is sponsored each year by WealthCounsel® and Trusts & Estates magazine. All participants are automatically entered into a random drawing for a chance to win more than $5,000 in incentive prizes.
While participation in previous surveys had been limited to attorneys, the survey is being expanded to include all wealth management professionals. Capturing the insight of all members of the client's professional advisory team is essential to taking an accurate pulse of the industry. . If you are an estate planning attorney, CPA, trust officer, financial planner, wealth advisor, registered representative, elder law practitioner, insurance professional, etc., you should take the survey and tell your colleagues about it!
This year's survey features some interesting questions! Here's a sampling of what you can expect:
How has the 2010 Tax Act impacted the way you practice?
Do you believe the majority of your clients would support a lower estate tax exemption if they thought the additional tax revenue would help to lower the budget deficit or stabilize the economy?
To what degree do you believe that the lack of financial literacy on the part of American consumers contributed to the purchase of adjustable rate mortgages involved in the subprime mortgage crisis?
As baby boomers enter their retirement years, to what degree do you believe this demographic group has adequately saved for a 20-year retirement?
Key findings will be published in the January 2012 issue of Trusts & Estates magazine, with bonus distribution and reprints circulated at the 46th Annual Heckerling Institute on Estate planning in Orlando, Florida, January 9-13, 2012. Plus, all survey participants will receive an advanced copy of the findings prior to public release.

The NAEPC Education Foundation
Robert G. Alexander, JD, LL.M., AEP®, EPLS
Alexander Law Offices, S.C.
Milwaukee, WI

The NAEPC Education Foundation board of directors is excited to announce the release of the 2010/11 Foundation Report.

The NAEPC Education Foundation, Inc. was formed in 2005 with a mission to:
Provide the public with financial awareness programs and improve financial literacy
Educate the public regarding the benefits of the multi-disciplinary team concept of estate and financial planning as espoused by the National Association of Estate Planners & Councils
Develop educational programs for estate and financial planning professionals
Develop and promote a community outreach program for the general public
Hold educational conferences, seminars, forums, and meetings regarding estate and financial planning
The organization's underlying vision is to significantly improve both the public's financial awareness and their financial literacy, while developing educational content to assist professionals in providing high-quality, cost-effective services to the public.
The 2010/11 Foundation Report outlines successes to date and provides a vision for future projects and initiatives. Read the full report document.
All affiliated local estate planning councils, their membership, and NAEPC designees are asked to consider making a donation to support The NAEPC Education Foundation and its efforts. Information on doing so, as well as an automated donation link, can be found here: http://www.naepc.org/foundation_contributors.web.


National Estate Planning Awareness Week 2011
October 17 - 23, 2011 is just around the corner and we have an exciting week planned for you!
First, please join us in congratulating the newly appointed co-chairs of National Estate Planning Awareness Week 2011:
Sidney Kess, CPA, JD, LL.M., AEP® (Distinguished)
Andrea R. Millar, CPA/PFS
We certainly appreciate the time, expertise, and dedication these two individuals offer The NAEPC Education Foundation and NEPAW 2011.
Several online events will be offered during the week of October 17 - 23, 2011. These online programs will be available to both professionals and the public with varying subject matter. You are encouraged to share the consumer program information with clients, colleagues and friends that may have an interest in the subject matter. Please note that events will be added soon, www.naepc.org is the most up-to-date source for information about NEPAW 2011.
We are grateful to Martin M. Shenkman, CPA, PFS, MBA, JD, AEP® and RV4theCause for their support of National Estate Planning Awareness Week 2011.
October 12, 2011 • 1:00 pm ET (presented with InterActive Legal)
NEPAW Kick-off Webinar with Jonathan G. Blattmachr, Esq., AEP® (Distinguished)
"How to Navigate the Bumpy Road Ahead"
Prepare for National Estate Planning Awareness Week 2011 by attending this signature event! During this webinar, Jonathan G. Blattmachr, Esq., AEP® (Distinguished) will share his experience and knowledge regarding the current economic pressures and political environment affecting estate planning and financial professionals. Key areas to be covered include:
Hot topics and contemporary planning challenges
How the current economic and legislative climate affects you
Preparing your practice for the real world of the future (aka the "new normal")
This event is complimentary to NAEPC members, AEP®, and EPLS designees.
Register online.
October 17, 2011 • 12:30 pm ET (presented with RV 4 The Cause and the National Multiple Sclerosis Society)
Consumer Webinar: Estate & Financial Planning for those Living with Multiple Sclerosis
Presented by: Martin M. Shenkman, CPA, PFS, MBA, JD, AEP®
Register online.
October 17, 2011 • 4:30 pm ET (presented with RV 4 The Cause and The COPD Foundation)
Consumer Webinar: Estate & Financial Planning for those Living with COPD
Presented by: Martin M. Shenkman, CPA, PFS, MBA, JD, AEP®
Register online.
October 18, 2011 • 12:00 pm ET (presented with RV 4 The Cause and The Michael J. Fox Foundation for Parkinson's Research)
Consumer Webinar: Estate & Financial Planning for those Living with Parkinson's Disease
Presented by: Martin M. Shenkman, CPA, PFS, MBA, JD, AEP®
Register online.
October 19, 2011 • 3:00 pm ET (presented by RV 4 The Cause and PESI)
Professional Webinar: "Role of the Care Manager in Estate Planning for Clients Living with Chronic Illness"
Presented by: Martin M. Shenkman, CPA, PFS, MBA, JD, AEP®
Members are eligible for a $20 discount by using code "NAEPC20"
Register online.
We want to hear from you!
Is your affiliated local council hosting a public program during or near National Estate Planning Awareness Week?
Did your affiliated local estate planning council take advantage of the NEPAW 2011 promotional kit?
We'd like to hear about your experience! Call or email the national office today with your plans, feedback or questions. The information provided will assist other councils and the board in planning for 2012 and beyond.
Accredited Estate Planner® Designation Information

Gregory E. Sellers, CPA, AEP®
Wilson Price
Montgomery, AL
In early August, the AEP® Committee of NAEPC released the first of two professionally written articles highlighting the team-concept of estate planning and the encouragement of the general public to seek out Accredited Estate Planners® for their estate planning team. The article can be viewed on our website. Note that the exclusive database from which the public can find their estate planning professional is the AEP® database. The article has already been posted to over 700 websites for television and radio stations, digital news organizations, and print media such as daily and weekly newspapers.
The next article is planned to be written an released in early October with a focus on National Estate Planning Awareness Week. Again, the AEP® database will serve as the beneficiary of the "Find an estate planning professional" search engine. Don't you want to be included?
Join over 1,500 professional estate planners who have committed to the AEP® Code of Ethics and separated themselves from the general practitioners in their discipline by applying for the designation today. You can review the qualifications for the designation at http://www.naepc.org/estate_planners.web, then complete an application. The following new designees are one step ahead of you:
| | |
| --- | --- |
| David E. Appel, CLU®, ChFC®, AEP® | Newton, MA |
| Michael P. Butterworth, ChFC®, CLU®, RHU, CFBS, AEP® | Reading, PA |
| Ruth Ann Castellano-Piatt, CPA/PFS, AEP® | Albuquerque, NM |
| Sandra Brandt Chambers, CPA/PFS, CTFA, CISP, AEP® | Chattanooga, TN |
| Ronald J. Clayton, JD, AEP® | Milwaukee, WI |
| Margaret A. Ford-Mitchell, JD, CLU®, ChFC®, AEP® | Denver, CO |
| Karen S. Gerstner, JD, AEP® | Houston, TX |
| Robert Morris Glasgow, III, CFP®, ChFC®, MSFS, AEP® | Newnan, GA |
| Melvin L. Gross, CLU®, ChFC®, MSFS, AEP® | Houston, TX |
| Todd R. Gullickson, CLU®, ChFC®, MSFS, CASL, CFBS, CFS, CLTC, AEP® | Davenport, IA |
| Susan Hollingsworth, CPA, AEP® | Modesto, CA |
| Gary D. Jurden, CFP®, CAP®, CRPC, AEP® | Eugene, OR |
| Kevin Luchetta, CFP®, AEP® | New York, NY |
| Fred W. Prelle, Jr., CLU®, ChFC®, AEP® | Houston, TX |
| John T. Rogers, Jr., JD, AEP® | Los Angeles, CA |
| Richard T. Romano, CLU®, ChFC®, AEP® | Metairie, LA |
| Robert M. Rosenberg, JD, MSW, AEP® | Birmingham, AL |
| Robert A. Roth, CLU®, ChFC®, AEP® | West Hartford, CT |
| Steven R. Sarcione, CTFA, AEP® | Boston, MA |
| Theodore J. Sarenski, CPA, CFP®, AEP® | Syracuse, NY |
| Jerome M. Schwaller, CLU®, ChFC®, CASL, CAP®, CFP®, AEP® | Urbandale, IA |
| Scott J. Sernett, CFP®, CLU®, ChFC®, AEP® | Waterloo, IA |
| Mark A. Shiller, JD, AEP® | Milwaukee, WI |
| Brent T. Stanyer, JD, AEP® | Spokane, WA |
| Lynne F. Stebbins, JD, CLU®, ChFC®, AEP® | Port Washington, NY |
| Barbara Freedman Wand, JD, AEP® | Boston, MA |

Member Benefits, Programs & Services
NAEPC strives to offer our designees, councils and the affiliated local council membership high quality benefits, programs and services at value pricing. We continually look for opportunities that will enhance the value of your membership and make your practice more efficient.
We are very proud to make the following benefits available to you at reduced prices or substantial discounts:
New Educational Programs, Benefits, Programs & Services!
37th Annual Notre Dame Tax and Estate Planning Institute - See more information.
With increased exemptions, the need for estate planning for the moderately wealthy will decrease. Recognizing this trend, the 2011 Institute will add topics that go beyond gift and estate tax savings. It is intended that these add-ons will introduce topics that can create new planning opportunities and thus new business for your practice. These special features will include income tax planning ideas that estate planning professionals can introduce to their individual clients and using variations of traditional estate planning techniques for income tax planning for corporations. The Institute will also address the tax and state law issues relating to early termination of trusts, interpretation of ambiguous trust language and amending trust terms by reformation or decanting. Another focus will be communicating charitable planning techniques to encourage charitable giving that will also accomplish the individual's other objectives. As part of the communication focus, sessions will cover the mathematics of estate planning and using financial projections as part of the evaluation and communication process.
Ruby Receptionists - visit www.naepc.org for more information
Ruby is a smart and cheerful team of virtual receptionists trained to make a difference in your day. From their studio in Portland, Oregon, all calls are handled with care by delivering the perfect mix of friendliness, charm, can-do attitude, and professionalism. Best of all, callers will think they work in your office. Why is Ruby Used by Attorneys?
Ruby is the perfect solution for solo and small firm attorneys, providing top-notch receptionist service at a fraction of the cost of an on-site receptionist. In fact, over 400 attorneys are currently served.
They understand that you aren't always available to answer your own calls, and the value of a missed call can be enormous. Ruby gives you the peace of mind that your clients—and potential clients—will each be treated warmly and professionally by a smart, highly trained cheerful receptionist.
Educational Webinar: Special Needs Planning presented by Bernard A. Krooks, JD, CPA, LL.M., CELA, AEP®
Wednesday, September 14, 2011 - 12:00 noon - 1:00 pm ET - $39.99 NAEPC Members
Webinar series offered with the Society of FSP - See more information and registration.
It is estimated that over 40 million Americans have disabilities, one in seven. The incidence of disabilities among children is increasing at a faster rate than only a few years ago. Whether this increase is due to better diagnosis or some other factors is the subject of much debate. What is not debatable, however, is that these families need our assistance. Health care expenses for people with disabilities are increasing at an alarming rate. In addition, government healthcare benefits are more difficult to access and insurance companies are getting tougher in their willingness to pay claims. In this climate, planning for individuals with disabilities takes on increased importance in our estate planning practice. In this webinar, Mr. Krooks will review the issues which you must consider when working with a family who has an individual with special needs. By incorporating practical solutions to these concerns into your estate planning practice, you will be able to improve the quality of life of the person with special needs.
A Parent's Guide to Wills & Trusts
Acquire Seminar Marketing
Advisys Back Room Technician
Amicus Creative Media
BVR's Guide to Business Valuation Issues in Estate & Gift Tax edited by Linda Trugman, CPA/ABV, CBA, ASA, MBA
BVR's Training Packs—webinar recordings & transcripts
CCH, a Wolters Kluwer business
Civicom audio recording & conference calling
DocuBank
Estate++
EstatePlanningBinders.com, high quality binders & index tabs for your clients
Estate Planning Smarts by Deborah L. Jacobs
Evaluation Services, Inc.
Family Business magazine
Family Foundation Advisor
Florida Domicile Handbook

Heart2Hearts: Workbook and Deck of Cards
Journal of Taxation of Investments
Klark Proposal Software
Konica/Minolta
LegacyQuest, LLC
LegalVault
Midwest Transaction Group
My Estate Planning Organizer
National Center for Family Philanthropy
Private Wealth magazine
Robert Keebler's Exclusive Roth IRA Conversion Decision Chart
Robert Keebler's Health Care Surtax Chart
The ABA Checklist for Family Heirs: A Guide to Family History, Financial Plans and Final Wishes
The Complete Trust Course offered by PESI Law & Accounting
Trusts & Estates magazine, $129 subscription
Wealth Transfer Planning software
Wealth Management Business magazine
Please remember… all members must utilize a user name/password to access detailed ordering links and information. If you are an At-large member or member of a council that utilizes passwords on a website hosted by NAEPC, you can use the "I forgot my password" option. Others should contact NAEPC with questions about the appropriate user name/password combination.
This committee is in need of volunteers! The group meets monthly on an as-needed basis to review product applications received from potential partners and is asked to refer potential value partners to NAEPC to complete the application process.
Council Relations Committee Happenings

Joanna Averett, MBA, CFP®, CIF®, AEP®
First American Trust
San Bernardino, CA
Did you know? NAEPC offers several referral lists and documents available for council use. Visit the "information for affiliated councils" section of the website for the full list. We also offer a variety of council-only benefits such as discounts on speaker gifts and award pieces, etc. Take a look today
NAEPC offers all affiliated local councils website platforms at very competitive yearly rates. The platforms are continuously enhanced to include new features, many suggested by existing users. Contact the NAEPC office today to obtain information about initiating new service or upgrading your existing EPC site (including a 50% discount program for the first year of new or upgraded service!).
Estate Planning Law Specialist Designation Information
The Estate Planning Law Specialist (EPLS) designation is available to attorneys and is administered by the Estate Law Specialist Board, Inc., an attorney-run subsidiary of the National Association of Estate Planners & Councils. Attorneys who become board-certified under this program demonstrate a high level of professionalism and commitment to the concept of specialization. This program is currently the only program, other than certain state bar association programs which are only for residents of their particular states, accredited by the American Bar Association to Board-certify attorneys as Estate Planning Law Specialists.
Please join NAEPC in congratulating the newest Estate Planning Law Specialist designees:
| | |
| --- | --- |
| Cheryl K. David, JD, EPLS | Greensboro, NC |
| Jason E. Havens, JD, LL.M. (estate planning), EPLS, AEP® | Destin, FL |
| Caryn B. Keppler, JD, EPLS, AEP® | New York, NY |
| John McGown, Jr., JD, LL.M. (taxation), EPLS | Boise, ID |
| Parag P. Patel, JD, LL.M. (taxation), EPLS, AEP® | Iselin, NJ |

Subscription Options
You are receiving this message because of your affiliation with NAEPC or because your local estate planning council asked for its members to be included, no more frequently than six times per year. To unsubscribe from messages like this one, please use the link at the bottom of this message to remove your address from our distribution list.
If you want to receive more frequent and timely communication about the NAEPC and its educational programming and member benefits, please be sure to subscribe for more frequent communications.
National Association of Estate Planners & Councils 1120 Chester Avenue, Suite 470 Cleveland, OH 44114
Phone: (866) 226-2224 ~ Fax: (216) 696-2582 ~ E-Mail: admin@naepc.org

© 2011, All Rights Reserved. See Privacy Policy.
{VR_SOCIAL_SHARING}