Lawrence M. Lehmann, JD, AEP®
Lehmann Norman & Marcus LC
New Orleans, LA

As the world prepares to watch the summer Olympic Games, I cannot help but notice parallels between several of the sports we will all be watching in August to the core value of NAEPC, the team concept of estate planning. I also notice the highly committed athletes of the Olympics; all with different skill sets working together toward a common goal, much like the professionals involved in a high-performing estate planning team. My hope is that you also see these similarities and share my excitement as the Games draw near.

So, how can you show your commitment to the team approach to estate planning like the Olympians show their commitment to their country and sport?

This is also a fantastic time to make sure you are taking full advantage of the benefits available to you as a member of your local estate planning council. Please make sure to review the list of discount programs found within this newsletter, including several new offerings, subscribe to the NAEPC Journal of Estate & Tax Planning, join the NAEPC group on LinkedIn, and download our recently-refreshed app to stay current on the "happenings" at NAEPC.

In closing, I hope to see you in November in Arizona for the NAEPC's Advanced Estate Planning Strategies Conference. Registration is open and the early bird discount expires in September, don't delay—register today! I truly believe that the annual conference is the "go to" national estate planning conference. It is built by and for estate planners of all disciplines and I know you will not be disappointed!




Who Are We?
by Ben G. Baldwin, Jr., MSFS, MSM, CLU®, ChFC®, CFP®, AEP® (Distinguished)
For a non-lawyer, such as myself, it is a particular privilege to be a part of the NAEPC and to have the support of so many professionals dedicated to the team concept, and to their clients best interests, by helping clients determine those best interests and implementing plans to attain multi-generational financial security. Charles T. Munger, of Berkshire Hathaway fame, was quoted in the Wall Street Journal on September 12th, 2014. He summed-up why our team approach to honing "estate planning" to perfection is so important. He said:

"Knowing the edge of your circle of competency is one of the most difficult things for a human being to do. Knowing what you don't know is much more useful in life and business than being brilliant."

Working in teams with NAEPC professionals keeps us all working within our circle of competency, providing the wide range of competencies our clients need to accomplish their goals.


RESOURCES




| | | |
| --- | --- | --- |
| Follow us on: | | |

NAEPC provides a diverse offering of Value Partners as a resource to you, a member of an affiliated local estate planning council! Click on the links below to browse the list by category, or see the full list of opportunities.
New Benefits
Directive Communication System (DCS)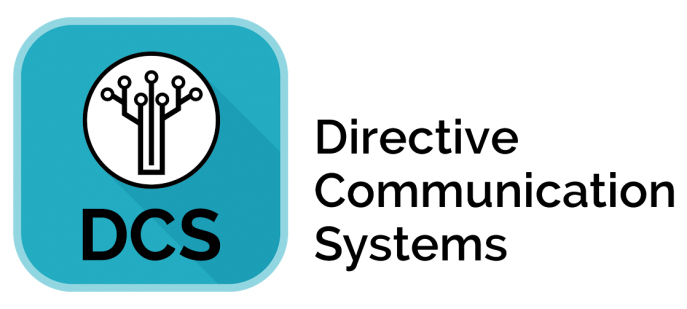 Are you prepared?
Do you know how to effectively handle online accounts and digital assets directives?
Even one forgotten account can ruin all you worked for!
Directive Communication Systems (DCS) is the service for estate professionals and their clients for handling online and offline personal account directives organization, management and administration. With the onset of digital dependency, traditional methods for estate planning and administration are no longer effective. They're outdated, insufficient and impractical. Risks of hidden and lost accounts are intensifying leaving estates vulnerable to undistributed and unclaimed assets.
DCS provides a fully automated and secure solution for organizing, identifying and contacting digital and off-line personal accounts, protecting you, the estate and loved ones. Using our exclusive Portfolio Plus feature, DCS continually adds new accounts to a client's portfolio as they conduct their everyday activities keeping their accounts current and their wishes transparent. With DCS as your service provider, you'll enjoy the many benefits of being properly prepared.
Benefits to your practice:
protects estates and trusts from hidden and lost accounts
expands your estate product portfolio
reduces time spent on account identification and notification
combines digital and offline assets into one organized collection
satisfies many of the elements for new state legislation
Benefits to your clients:
organization of digital and traditional accounts
continual account capture with Portfolio Plus feature
requires no passwords or other security information, reducing risk of ID theft
emotional relief for loved ones at their most vulnerable time
reduces the confusion and anxiety of identifying and acting on accounts
See more information about Directive Communication Systems,
The Life Documents Organizer Kit by Smead Manufacturing Company

Smead Manufacturing Company, a leader in office filing products and records management systems, was established in 1906 in Hastings, Minnesota. Smead is a privately held, certified Women's Business Enterprise (WBE) offering thousands of organizational products for use in the home or office. For more information on Smead's high-quality
organizational products, including hundreds of products made in the USA visit www.smead.com.
The Life Documents Organizer Kit helps you organize and store key life documents such as wills & trusts, health care directives, investment and retirement plans, marital documents and contact information. Having your papers in order alleviates the guesswork and stress of locating important documents in case of an emergency or occurrence of a life-changing event. Having your key life documents organized helps to ensure that your wishes and assets are managed, retained and distributed as needed while being less stressful for you and your loved ones. Each kit contains 6 colored hanging folders, 24 SuperTab® file folders, 1 sheet of Viewables Quick-Fold tabs, 3 label sheets with pre-printed labels and a detailed instruction sheet.
See more information on the Life Documents Organizer Kits.
Featured Benefit

The NAEPC Journal of Estate & Tax Planning is a web-based library of best-in-class thought leadership appropriate for every member of every estate planning council. Visit www.NAEPCJournal.org today to view current and past issues of the publication.
Published quarterly and available at no-charge to all estate planning council members and Accredited Estate Planner® designees, The Journal is considered to be one of the top benefits of membership in NAEPC. Make sure to subscribe to receive immediate notification when new issues are published!
All Benefits
For special password-protected benefits, members must utilize a user name/password to access detailed ordering links and information. If you are an At-large member or member of a council that utilizes passwords on a website hosted by NAEPC, you can use the "I forgot my password" option. Others should contact NAEPC with questions about the appropriate user name/password combination.
53rd Annual NAEPC Advanced Estate Planning Strategies Conference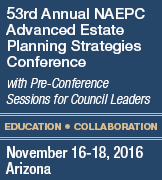 The NAEPC Advanced Estate Planning Strategies Conference is scheduled from November 16-18, 2016 in Litchfield Park, Arizona (near Scottsdale). The Annual Conference has become the "go-to" event for estate planners from across the country, providing an exciting line-up of nationally-recognized speakers, a fabulous location and unique headquarters hotel, and incredibly competitive registration and guest room fees. The conference is built by and for all of the disciplines that make up the estate planning team, making it an event that is not to be missed. The early bird registration brochure, online reservation link, and general information can be found at http://www.naepc.org/conference. The $50 early bird discount expires Friday, September 30, 2016—don't delay in making your reservation.
The Conference Committee prides itself on choosing exciting companion programs for those who accompany Council Leadership Day and Educational Package registrants to the event! Two very exciting programs are planned for this year:
Thursday, November 17, 2016
Arabian Ranch Tour & Time to Explore the Valley of the Sun
Friday, November 18, 2016
4-Wheel Desert Tour
The companion package fee is $475 and includes the Thursday & Friday breakfasts and companion tours and the Wednesday evening Welcome reception.
We are most grateful for the support of our 53rd Annual NAEPC Advanced Estate Planning Strategies Conference sponsors, including:
Sponsorships are still available! Questions may be directed to Ed Socorro at ESocorro@NAEPCmarketing.org or 312-600-5303.
Robert G. Alexander Webinar Series
The Robert G. Alexander Webinar Series was launched in September 2013 to provide estate planners with accessible, high quality, multi-disciplinary education. Programs are available live and on-demand and most often take place on the second Wednesday of each month at 3:00 pm ET. Attendees can choose to register for individual programs, or for a series subscription.
Upcoming Programs
All at 3:00 pm - 4:00 pm ET
Wednesday, August 10, 2016
Planning for Divorce
Carlyn McCaffrey, LL.B., LL.M., AEP® (Distinguished)
REGISTER HERE

Wednesday, September 14, 2016
Income Tax Deductions for Charitable Bequests of IRD
Christopher R. Hoyt, JD, AEP® (Distinguished)
REGISTER HERE


Wednesday, October 19, 2016
Tricky GST Issues
David A. Handler, JD, AEP® (Distinguished)
Please note special date.
REGISTER HERE

Wednesday, December 14, 2016
Top Ten Estate Planning and Estate Tax Developments of 2016
Ronald D. Aucutt, JD, AEP® (Distinguished)
REGISTER HERE

Continuing education credit is available at each webinar for Accredited Estate Planner® designees. In addition, a general certificate of completion will be made available for those professionals who feel the program satisfies their continuing education requirements and are able to self-file. It is the responsibility of the attendee to determine whether their state, discipline, or designation will allow one to self-file for a distance-learning program. Please contact webinars@naepc.org prior to attending your first program if you have any questions with regard to this policy.
Subscription Options
You are receiving this message because of your affiliation with NAEPC or because your local estate planning council asked for its members to be included, no more frequently than six times per year. To unsubscribe from messages like this one, please use the link at the bottom of this message to remove your address from our distribution list.
If you want to receive more frequent and timely communication about the NAEPC and its educational programming and member benefits, please be sure to subscribe for more frequent communications.
National Association of Estate Planners & Councils 1120 Chester Avenue, Suite 470 Cleveland, OH 44114
Phone: (866) 226-2224 ~ Fax: (216) 696-2582 ~ E-Mail: admin@naepc.org

© 2016, All Rights Reserved. See Privacy Policy.
{VR_SOCIAL_SHARING}