Acquire Seminar Marketing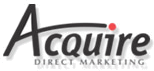 Acquire Direct Marketing specializes in seminar invitations for estate planning professionals. Our Classic Invitations put the emphasis on your credentials, along with the educational value of the Presentation.
Proven, tested, copyrighted messages (You can plug into a message that has worked all across the country)
High quality, custom-printed professional invitation packages that make a great first class impression
Pinpoint targeting using asset and net worth based mailing lists, reach exactly the type of prospects you want to work with)
For more information and pricing, call Zach Monahan today! 1-800-771-9898 ext 229.
http://www.acquirefinancial.com/
08/01/14