Message from the President

Clark B. McCleary, CLU®, ChFC®, MSFS, AEP® (Distinguished®)
McCleary & Associates
Houston, Texas

Dear Colleagues,

We're just a touch over a month away from the 49th Annual Conference in Orlando, Florida and I do hope your plans include attending this special event!

The sessions planned for Council Leadership Day will offer council officers in attendance a unique view of all of the happenings at NAEPC, a sneak peek at new initiatives planned for 2013, and the special opportunity to learn from other leaders in closed-door roundtable discussions with leaders from chapters of similar size.

The technical portion of the conference is a "can't miss"! National speakers, new topics, and special networking events truly make this event one of the top estate planning programs in the country. Come, learn, network, and earn CE… it doesn't get better than that!

In closing, this is my final message to you as president of NAEPC. I have enjoyed serving as your president and look forward to continued involvement in the years to come.

I look forward to meeting with you in Orlando in November!

Cordially,




Reflections on the Values of NAEPC...
My "team" is a little different than most. In my consulting practice I promote myself as an Insurance Fiduciary. There, my team is the client, the insurance company, the insurance agent, and the ILIT trustee (as applicable). Our purpose is to collaborate on an annual or bi-annual schedule to make sure that life insurance policies are meeting the objectives specified in a customized Life Insurance Property Management Statement (similar to an Investment Management Statement for investment management)... read more

| | | |
| --- | --- | --- |
| Follow us on: | | |
| | | |

49th Annual Conference scheduled from November 7-9, 2012
in Orlando, Florida
The NAEPC / The NAEPC Education Foundation 49th Annual Conference is scheduled from November 7-9, 2012 in Orlando, Florida - don't miss your chance to attend! The full registration brochure, online reservation links, and general information can be found at http://www.naepc.org/convention.web. Register before October 9th to avoid the late fee!
The annual conference has quickly become the "go-to" event for estate planners throughout the country! Our exciting line-up of nationally-recognized speakers, coupled with a fabulous location near Downtown Disney and incredibly competitive registration and guest room fees, make the 49th Annual Conference an event that is not to be missed. With the addition of national continuing education credit in 2009*, the event has become a signature program within the estate planning community.
It's not too early to plan for 2013... the 50th Annual Conference will take place November 20-22, 2013 in Las Vegas. Please plan on joining the celebration!
*Continuing education credit will be available for AEP® designees and will be requested nationwide for accountants, insurance professionals, attorneys, Certified Financial Planners® and Certified Trust and Financial Advisors. Approval status can be found online at www.naepc.org.
Accredited Estate Planner® Designation Information

M. Eileen Dougherty, CTFA, CFP®, AEP®, ChFC®
Semper Trust Company
King of Prussia, PA
The fourth quarter of the year is a busy time in the estate planning world. Our clients, and each of us, are returning from well-deserved vacations with family and friends and are likely to reflect on all the tasks that need to be accomplished before year end. If your list is underway, I hope you have room for two items; National Estate Planning Awareness Week and attending the 49th Annual Conference!
This is a great time to engage in dialogue with clients about what they have planned for the future. If you need ideas, why not visit The NAEPC Education Foundation's resource for the public, www.EstatePlanningAnswers.org?
The second item for your list is planning to join us in Orlando, FL from November 7-9, 2012 for the 49th Annual Conference. We are very proud to have a special session for AEP® designees only on Thursday November 8, 2012 at 5:00 PM presented by Albert E. Gibbons, CLU®, ChFC®, AEP® on the topic "How AEP® Designees Can Work Effectively as Collaborative Teams and Why They Are Essential for High Net Worth Clients." Al Gibbons, and informed and engaging speaker, is presenting just for active designees on a topic at the very heart of the NAEPC mission. With the line-up of talented speakers and great topics, it would be a shame to miss this year's conference.
Please join us in welcoming the newest Accredited Estate Planner® designees:
| | |
| --- | --- |
| Robin M. Aden, JD, CTFA, AEP® | Sioux Falls, SD |
| Laurie J. Austin, CPA, MST, AEP® | Woburn, MA |
| Carl Robert Cox, ChFC®, CASL, MBA, Ph.D., AEP® | Clearwater, FL |
| Leslie C. Daane, CPA, AEP® | Reno, NV |
| Leigh Hilton, JD, AEP® | Denton, TX |
| Daniel L. Keane, CTFA, AEP® | State College, PA |
| Mark F. Keating, CFP®, AEP® | Sebastopol, CA |
| Linda J. La Vay, CTFA, AEP® | Doylestown, PA |
| Michael A. Martinez, CLU®, ChFC®, AEP® | Houston, TX |
| Michael S. McCranie, CFP®, AEP® | Jacksonville, FL |
| Mark E. Mueller, JD, AEP® | Troy, MI |
| Randolph M. Pople, CFP®, AEP® | Tallahassee, FL |
| Scott M. Speedy, CFP®, CLU®, ChFC®, AEP® | Nashville, TN |
| Merissa Spicer, CTFA, AEP® | Lowell, AR |
| Jerome A. Timmermann, CLU®, ChFC®, AEP® | Breese, IL |
National Estate Planning Awareness Week
Please join 2012 distinguished honorary co-chairpersons Jonathan Blattmachr, Esq., AEP® (Distinguished), recognized as one of the country's most creative trust and estate lawyers, author and speaker; and Janet Novack, leading financial journalist, exceptional communicator, and the Washington D.C. Bureau Chief & Executive Editor for Forbes, leading financial service associations and organizations, and the press, in a concentrated media campaign by promoting financial awareness during National Estate Planning Week, the third week in October (15-21).
This significant public service was initiated by Congressman Mike Thompson and 49 of his colleagues. A full version of H. Res 1499 along with the names of the co-sponsors can be found HERE.
Here are some ways you can participate:
Encourage your council and other groups to host community-wide programs built around estate and financial planning during the months of October and April (National Financial Literacy Month).
Add estate and financial planning editorial content to your website, newsletter, social media groups, local newspapers, and radio/television/web-based shows. During the months of October and April you are welcome to use, at no cost, any of the financial and estate planning feature articles from www.EstatePlanningAnswers.org as content or research for your content for your website, newsletter, and magazines.
Circulate the 2012 NEPAW – NFLM Media Kit to colleagues, associates, and other parties as you see appropriate.
A full kit and downloadable documents can be found online. Take a look today!
If you would like additional information about National Estate Planning Awareness Week and National Financial Literacy Month, or to receive complimentary estate and financial planning content, a link for your website, or serve as a volunteer on The NAEPC Education Foundation National Estate and Financial Awareness Committee, please contact The NAEPC Education Foundation's Executive Director/Publisher:
Valentino Sabuco, CFP®, AEP®
707-322-1507
v.sabuco@TheNAEPCEF.org
Member Benefits, Programs & Services
NAEPC strives to offer our designees, councils, and the affiliated local council membership high-quality benefits, programs and services at value pricing. We continually look for opportunities that will enhance the value of your membership and make your practice more efficient.
The National Association of Estate Planners & Councils Member Benefits Committee is excited to announce the launch of its new "Elite Value Partner" status. This new initiative offers existing value partners an opportunity to support the association and its membership in an advanced manner and, in return, offers expanded recognition. An Elite Value Partner offers additional visibility to NAEPC member councils and their members through expanded recognition within the various activities of NAEPC. Watch this newsletter for additional information in the upcoming issues.
New Benefits
American Dream Planner LLC
The American Dream Planner software is a common platform for all members of the estate planning team (attorneys, planners, and accountants) to collaborate and communicate ideas and solutions for their clients. It integrates financial and estate planning in a single software solution. Information can be shared through its encrypted import and export function.
The American Dream Planner provides these calculations without the need to purchase additional modules. Its unique split screen provides instantaneous feedback. Unlimited assets, income, expenses and the ability to create an unlimited number of scenarios make it a complete solution.
Most importantly, at the end of the day, it isn't about calculations since all projection software products will run formulas and print reports. What sets the American Dream Planner apart is its unique ability to capture and hold a client's attention and allow them to take ownership of their choices.
NAEPC members receive a discount of $50.00 off the purchase price of the Advisor Edition and Pro Client Edition. Contact American Dream Planner for NAEPC member discount pricing for volume purchase orders.
A free demonstration version of the software is available at the download center.
Lawgic, LLC
What is Lawgic Wills & Trusts?
Lawgic Wills & Trusts helps you create high-quality estate planning documents tailored to your clients' individual needs. Authored by nationally recognized estate planning experts, the program's patented technology uses a question and answer session to guide you through the drafting process, with up-to-date research and analysis tailored to each question. The combination of the authors'; expertise and Lawgic's system makes Lawgic the best tool available to assist you in your practice.
What is included with my subscription?
Annual subscriptions include product updates, unlimited technical support, individual telephone training, webinar training.
Lawgic includes wills, trusts, advanced healthcare directives and client correspondence. For a complete list of documents for your state version please visit www.lawgic.com.
NAEPC members are eligible for a 15% discount on their subscription to Lawgic. To take advantage of this discount, please complete the special NAEPC order form and return to Lawgic via fax or mail.
The Ultimate Estate Planner
The Ultimate Estate Planner, Inc. was formed by veteran estate planning attorney, Philip J. Kavesh, in September 2004 under the business name, The "Missing Link" Boot Camp, Inc. Mr. Kavesh's initial Boot Camps were designed to provide estate planning attorneys and financial advisors an intensive, all-inclusive, 2-day training where both advisors were linked together to implement new, cutting-edge trust products and effectively learn how to create a successful multi-disciplinary model, integrating both estate and financial services under one roof.
The Ultimate Estate Planner, Inc. has since expanded upon these original Boot Camps to provide practical, tested and proven technical and marketing products to help estate planning professionals of all kinds—attorneys, financial advisors, CPAs, and life insurance agents—throughout the country build their practices. The Ultimate Estate Planner, Inc. offers a variety of resources to estate planning professionals, including but not limited to:
Practical Educational Teleconferences from Some of the Nation's Leading Experts
Unique & Breakthrough Legal Document Forms
Tested & Proven Seminar Marketing Packages
Practice-Building Packages to Help Your Firm Run Efficiently
Books, CDs & DVDs
Free Publications & Reports
Free Planning Decision-Making Charts
Free MP3 Podcasts
Information on the Industry's Leading Publications & Subscriptions
Information on Upcoming Events in the Industry
Personal Coaching & Consulting
And much, much more!
The Ultimate Estate Planner, Inc. has extended NAEPC members a dedicated MEMBERS ONLY DISCOUNT PAGE, with a variety of special offers including a 15% discount on any order with us, over 40% discount on some of our most popular products, complimentary On Demand Programs and access to a number of helpful tools, including MP3 podcasts, charts, client marketing letters and more!
Click here to view The Ultimate Estate Planner's promotional flyer.
Click here to request access to the NAEPC Members Discount Page from The Ultimate Estate Planner, Inc.
Get 15% Off New Book: 2012 Estate Tax Planning Steps to Take Now
Through Value Partner The Ultimate Estate Planner, Inc.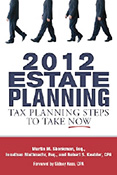 Leading tax and estate planning experts, Martin Shenkman, J.D., CPA, MBA, Jonathan Blattmachr, J.D. and Robert S. Keebler, CPA, MST, AEP (Distinguished) have come together for the very first time to co-author the single most authoritative practical guide to crucial, last-minute planning for 2012.
This unique book is written technical enough to assist professionals like you to understand the key planning choices and how to avoid the traps involved with each—and written in plain-English enough for the sophisticated client who wants to better understand complex planning or needs some motivation to move ahead and do something!
Use coupon code "NAEPC 15" to get a 15% discount on your purchase. Click here for more information or to place your order!
Featured Benefit
2012 AICPA Sophisticated Tax Planning for Your Wealthy Client
Dates: October 22-23, 2012 • The Roosevelt Hotel; New York, NY
Obtain the latest updates, cutting-edge strategies and governmental regulations that affect affluent individuals. Learn the latest techniques on retirement and estate planning, eldercare, asset protection, life insurance – and more. All-star speakers and presenters selected by Sid Kess will train and guide you so that you can implement the solutions you receive immediately. Don't miss the opportunity to network with these experts and your peers at the 2012 AICPA Sophisticated Tax Planning for Your Wealthy Clients Conference.
Who Should Attend This Conference: CPAs, Financial Planners, lawyers, insurance agents, enrolled agents, firms that have high net worth clients, Family Office Managers, Banks & Trusts Officers, wealthy clients, Investment Advisors, Tax Practitioners serving wealthy clients.
NAEPC members are eligible for a $100 discount on the registration fee. Use coupon code "TUB" when registering. Register here: Sophisticated Tax Planning for Your Wealthy Clients.
We are very proud to make the following benefits available to you, the members of our affiliated local councils, at reduced prices or substantial discounts:
Acquire Direct Marketing
Advisys
AfterSteps
Amicus Creative Media
BizActions LLC
Business Valuation Resources, LLC
CB Data™
Charitable Planning Desk Reference for Advisors / Strategic Philanthropy
CrummeyService
Discuss Directives, LLC - Heart2Heart Workbook & Deck of Cards
DocuBank
Estate Planning Smarts
EstatePlanningBinders.com
Family Business Magazine

Florida Domicile Handbook
International Genealogical Search, Inc.
Klark Proposal Software
Konica Minolta Business Solutions
LegacyQuest, LLC
Legal Vault
Midwest Transaction Group
My Perfect Will
Oswald Companies Personal Excess Liability
Private Wealth Magazine
PS Awards
Ruby Receptionists
Sterling Cut Glass
The ABA Checklist for Family Heirs...
Trusts & Estates
Wall Street-Themed Greeting Cards
WealthManagement.com
Please remember… all members must utilize a user name/password to access detailed ordering links and information. If you are an At-large member or member of a council that utilizes passwords on a website hosted by NAEPC, you can use the "I forgot my password" option. Others should contact NAEPC with questions about the appropriate user name/password combination.
Estate Planning Law Specialist Designation Information
The Estate Planning Law Specialist (EPLS) designation is available to attorneys and is administered by the Estate Law Specialist Board, Inc., an attorney-run subsidiary of the National Association of Estate Planners & Councils. Attorneys who become board-certified under this program demonstrate a high level of professionalism and commitment to the concept of specialization. This program is currently the only program, other than certain state bar association programs which are only for residents of their particular states, accredited by the American Bar Association to Board-certify attorneys as Estate Planning Law Specialists.
Get Involved!
Talented Volunteers Needed!
NAEPC is a dynamic and growing association comprised of affiliated local estate planning councils, their 27,000 members, and Accredited Estate Planner® designees, led entirely by a volunteer board of directors, a strong committee configuration, and many volunteers serving on an as-needed basis for project-based or task force work. We are always looking to expand our volunteer base and encourage council leaders, council members, and designees to get involved by serving on one or more committee. Visit our website for a list of committees and an application.

Subscription Options
You are receiving this message because of your affiliation with NAEPC or because your local estate planning council asked for its members to be included, no more frequently than six times per year. To unsubscribe from messages like this one, please use the link at the bottom of this message to remove your address from our distribution list.
If you want to receive more frequent and timely communication about the NAEPC and its educational programming and member benefits, please be sure to subscribe for more frequent communications.
National Association of Estate Planners & Councils 1120 Chester Avenue, Suite 470 Cleveland, OH 44114
Phone: (866) 226-2224 ~ Fax: (216) 696-2582 ~ E-Mail: admin@naepc.org

© 2012, All Rights Reserved. See Privacy Policy.
{VR_SOCIAL_SHARING}