This Just In...

NAEPC Journal of Estate & Tax Planning, 4th Quarter 2013 Issue Released. Click for more details.

Message from the President

Gregory E. Sellers, CPA, AEP®
Warren Averett, LLC
Montgomery, Alabama

Dear Colleagues:

Happy New Year! The "hustle and bustle" of year-end planning, holiday travels and gatherings, and the NAEPC 50th Annual Conference are behind us. Our past president, Joanna Averett, has led us through a stellar year, with over 1,700 AEP® designees, almost 250 affiliated local councils, and the most successful leadership and educational conference in recent history. I must say that it is an exciting time to be starting my term as president. Thank you for that opportunity.

As members of our local estate planning councils, we have all made a commitment to serving our clients with professional excellence through a multi-disciplinary team approach to estate planning. Our board of directors has taken that model a step further as we work with a multidisciplinary team approach to serve you and to provide you, the individual members of NAEPC, with valuable tools, resources and benefits.

Our 2014 NAEPC Robert G. Alexander Webinar Series will continue our commitment to affordable continuing education and the excellent programming, timely topics, and nationally-recognized speakers to which you have become accustomed in our annual conferences.

The professional designations granted and administered by NAEPC continue to grow, and interest in the AEP® and EPLS® designations is gaining attention. Other conferences are making sure that their educational sessions will qualify for AEP® educational credit, and requests for the EPLS® review course and examination to be held at various other conferences are being made.

Also, be sure to check out the 4th Quarter 2013 release of the NAEPC Journal of Estate & Tax Planning. Our publications committee, co-chaired by Charlie Douglass and Susan Rounds, assembles articles and commentary from a variety of professional subscription sources with timely techniques and topics. Another example of the multi-disciplinary information sharing that is unique to our organization.

Finally, I urge each of you to spend some time reading this newsletter and see what your association can do for you. We want to help you help others.






We are multi-disciplinary, trusted advisors who share a non-negotiable, committed focus of putting our clients' best interests first. That most important shared value is acted out in all of our collaborative estate planning efforts. Let's define our terms (credit and thanks to Mickey Connolly and Richard Rianoshek, authors of "High Performance Collaboration"). "Team Work - Working together to produce extraordinary results. Coordinated Action. Move faster without losing intelligence. Move quickly, but completely and confidently." "High Performance Collaboration - People working together to accelerate the creation of value - faster than normal." The NAEPC promotes the multi-disciplinary approach to estate planning. At our core we believe collaborative teams are essential if we are going to provide outstanding estate planning for our high net worth clients.

Albert E. Gibbons, CLU®, ChFC®, AEP® (Distinguished)

| | | |
| --- | --- | --- |
| Follow us on: | | |
| | | |

Webinars
Please join us for the next webinar in the series:
January 8, 2014
3:00 pm - 4:00 pm ET
"The Hybrid Domestic Asset Protection Trust: a Third-Party Trust That Can Turn Into a Self-Settled Trust"
Expertise offered by:
Steven J. Oshins , JD, AEP® (Distinguished)
Program moderated by Paul S. Viren, CLU®, ChFC®, AEP®

About the program: The Domestic Asset Protection Trust has become one of the most widely-used asset protection techniques among asset protection professionals. The speaker will talk about a twist on the Domestic Asset Protection Trust that significantly increases the probability of successfully protecting the trust assets.
About the speaker: Steven J. Oshins is a member of the law offices of Oshins & Associates, LLC in Las Vegas, Nevada. He is rated AV by the Martindale-Hubbell Law Directory, is listed in The Best Lawyers in America and was named the Las Vegas Trusts and Estates Lawyer of the Year by The Best Lawyers in America. He has been named one of the 24 "Elite Estate Planning Attorneys" in America by The Trust Advisor, one of the Top 100 Attorneys in Worth, one of Southern Nevada's Best Lawyers in In Business Las Vegas, one of the Best Lawyers in America in the trusts & estates category in The American Lawyer, one of the Best Lawyers in America in the Tax Law category in Corporate Counsel, named Nevada Super Lawyer in the wills, trusts & estate planning category in Nevada Business Journal, named Nevada Super Lawyer in the estate planning & probate category in Las Vegas Life and named Mountain States Super Lawyer in the estate planning & probate category.
This is an intermediate/advanced program.
Continuing Education Credit

Continuing education credit will be available at each webinar for Accredited Estate Planner® designees. In addition, a certificate of completion will be made available for those professionals that feel the program satisfies their continuing education requirements and are able to self-file. Councils may also file the program in their home state for programs offered in a group setting.
Registration Fee

• $40 / Accredited Estate Planner® designee (dues must be current at the time of registration)
• $60 / member of an affiliated local estate planning council or at-large member of NAEPC
• $100 / individual non-member
• $250 / council meeting or group gathering (council dues must be current at the time of registration)
Accredited Estate Planner® Designation Information

M. Eileen Dougherty, CTFA, CFP®, AEP®, ChFC®
Hawthorn - PNC Family Wealth
Philadelphia, PA
For all my fellow professionals who burned the midnight oil until the very last minute of 2013, delivering to your clients the best possible service and advice, congratulations on a job well done! With the holiday break behind us we are all making plans for a wonderful 2014. As you are busy making plans for this new year, may I make a few suggestions?
1. Consider putting our 51st Annual Conference in San Antonio, Texas on November 5-7, 2014 on your agenda. The cost is budget-friendly, particularly when you review the quality of the speakers and the vast content covered in their presentations.

2. If you have been considering the next step in your career development, why not consider the AEP® designation? We think the following items should be considered when making this decision as obtaining the designation provides a unique opportunity to:
Gain a competitive edge...success requires setting yourself apart from the competition
Give the public a way to identify you as a qualified professional estate planner who has the expertise and experience necessary to handle complex estate planning and/or business succession needs
Acquire access to potential clients through our national searchable database
Tap into the resources of the NAEPC and special members' only benefits
3. If you are already an AEP®, please consider referring a friend. Our strength is derived from the quality of our membership, their continued commitment to the team concept of estate planning, and high standards of excellence. We continue to be energized by the enthusiasm of our 1,700+ members and appreciate the ideas and feedback we receive from them.

I would be remiss if I did not offer my most sincere thanks to the AEP® Designation Committee for their hard work in 2013! Thank you, committee, for your time, energy, and talent!
Please join me in congratulating the following new Accredited Estate Planner® designees on their achievement:
| | |
| --- | --- |
| Caren Callahan, JD, LL.M. (taxation), State Certified EP, Trust & Probate Law, AEP® | Ukiah, CA |
| Wai Man Chan, CFP®, CLU®, ChFC®, LUTCF, AEP® | Fremont, CA |
| Mira J. Fine, CPA, MT, AEP® | Denver, CO |
| B. Wade Garber, CFP®, REBC®, RHU®, LUTCF, AEP® | Portland, OR |
| Jeremy P. Green, CFP®, CTFA, CLU®, CEBS, MSFS, EA, AEP® | Bloomington, MN |
| Mary Katherine Mac Nee, CFP®, CRPC®, AEP® | Pasadena, CA |
| Mary Jane Olsavsky, BS (finance), CTFA, AEP® | Pittsburgh, PA |
| Judith L. Perez, Esq., AEP® | Woodland Hills, CA |
| Bryan E. Schuenemann, ChFC®, AEP® | Wayzata, MN |
| Timothy D. Sullivan, JD, CLU®, AEP® | Andover, MA |
Annual Conference

S. Mark Alton
CFP®, ChFC®, CLU®, CAP®, AEP®, MSFS
The Armory Group at Morgan Stanley Smith Barney, LLC
Syracuse, New York

By every measure, our 50th Anniversary Conference was one of the most successful ever. We saw record attendance, with nearly 100 more participants than the previous year. Participant feedback was overwhelmingly positive with respect to programs, speakers and location. You can view a recap video of the 50th Annual Conference on our YouTube channel – enjoy!

The Council Leadership Day program was once again well received, and leaders very much appreciated the opportunity to share ideas with other councils of like size. This year, we featured a past president's panel, and inducted several new members into our Estate Planning Hall of Fame®, awarding them the AEP® (Distinguished) designation. As usual, we featured some of the best and brightest minds in estate planning, who presented on relevant and timely topics of interest to our multi-disciplinary audience. Steven Leimberg also hosted a special session just for AEP®s, drawing record attendance.

Of course, we now want to keep that momentum going! We would like to continue to get the message out that our conference is not only for your local leadership, but for the rest of us as well. We often say that our conference is a "best kept secret" in estate planning conferences! Please join us in San Antonio, on November 5th-7th for our 51st Annual Conference. Our overriding theme will be multi-disciplinary teaming, which is also the singular focus of our organization's mission statement. Multi-disciplinary teaming is challenging. It requires a common vision, and shared values. There are issues with respect to team dynamics, communication and designating roles and responsibilities on the team. Our speakers will weave into their presentations how to build a high performing, multi-disciplinary team of designated professionals, who collaborate with one another to accomplish the ultimate purpose the wealth was designed to accomplish for the wealth holder, his or her family, and the institutions and causes they care most about.
We are very excited about our upcoming conference, and hope to see all of you there!!
NAEPC Journal of Estate & Tax Planning

Charles V. Douglas, JD, CFP®, AEP®
Wachovia Wealth Management
Atlanta, Georgia
It is with great pride that we announce the release of the NAEPC Journal of Estate & Tax Planning 4th Quarter 2013 Issue, including a very special article by Sidney Kess, CPA, JD, LL.M., AEP® (Distinguished), "Year-End Tax Planning for Individuals and Business."

Council Relations Committee Report
Paul S. Viren, CLU®, ChFC®, AEP®
Viren & Associates, Inc.
Spokane, WA
Paul J. Pantano, CLU®, ChFC®, AEP® , CASL, MSFS
The Luttner Financial Group, Ltd..
Pittsburgh, PA
What a year! NAEPC now boasts a record number of affiliated local councils, nearly 250! I thought this might be the perfect time to talk just a bit about our relationship with our affiliated local councils and you, readers, the members of those councils.
The structure of NAEPC is just a bit different than many of our related professional associations because our true member is the affiliated local estate planning council. Your council has chosen to create and maintain an affiliation with NAEPC, for which we are grateful, and because of that choice you can take advantage of many benefits, programs, and services offered by NAEPC. All of those benefits are discussed in this newsletter, which you receive six times each year because your council's leadership determined that it would be appropriate for you to do so.
Are you taking advantage of our benefits? Did you know that you have access to a list of over 30 "value partners," organizations that have agreed to provide their products and services at reduced pricing? If you answered "no" to either of these questions, please read more in this newsletter or contact our office for more information.

Member Benefits, Programs & Services

Julie A. Buschman, CPA, AEP®
Bessemer Trust Company, N.A.
Dallas, Texas
All members of affiliated local councils have access to the growing list of benefits provided through the council's affiliation with NAEPC, a list of which appears below. You are encouraged to visit www.naepc.org to take a look today. As you browse, please remember that some benefits are password protected. For these special benefits members must utilize a user name/password to access detailed ordering links and information. If you are an At-large member or member of a council that utilizes passwords on a website hosted by NAEPC, you can use the "I forgot my password" option. Others should contact NAEPC with questions about the appropriate user name/password combination.
New Benefits
2014 AICPA Advanced Personal Financial Planning Conference, January 20-22, 2014, Las Vegas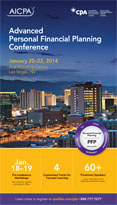 The 2014 AICPA Advanced Personal Financial Planning Conference is an intensive, high-level event that will help you prepare for the impact legislative and regulation changes will have on your practice and your clients. It's the first financial professional conference of the year that addresses changes head-on with the most advanced technical, all-encompassing learning programs for retirement, estate, investment, insurance and individual tax planning guidance for 2014.

Over the course of three intensive days, you will learn about the latest regulations, tax law changes and market outlook, and how to respond to pertinent issues that impact your practice — all in one advanced, all-encompassing conference. One thought-provoking session after another will address everything from tax policies to concentrated assets, insurance products and retirement plan design in addition to controversial topics such as Social Security, healthcare reform and Medicare.

Register online or download the brochure.

NAEPC members can take advantage of a special discount, creatively named "NAEPCPFP," which provides $100 off the onsite or online registration fees. This special offer can be combined with the AICPA member discount and the AICPA section discounts.
Special NAEPC Pricing for Webinar: After the FINAL IRS Regs...How Do You Advise Clients on The 3.8% "Net Investment Income Tax"?
(Not only individual clients, but trusts, estates, and closely held business entities too!)
If you have clients (or prospective clients) with sizeable income from interest, dividends, rents, capital gains or royalties, you can become a "hero" and their most talked-about advisor - if you can help them avoid the Affordable Health Care Act 3.8% Net Investment Income Tax that kicked in this year.
But it's not as simple as it seems. And even though the IRS has now finally issued its Final Regulations, it appears that this new tax is far more complex than originally thought.
Join us and nationally renowned tax expert, Robert Keebler, CPA, MST, AEP® Distinguished for a very special and timely 90-minute teleconference on Tuesday, January 14, 2014 at 9am Pacific Time (12pm Eastern Time) entitled "Understanding the 3.8% Net Investment Income Tax and Its Effect on Individuals, Trusts & Estates, and Closely Held Entities - After the Final Regs".

You need to know:
How do you compute this §1411 Net Investment Income Tax?
What is its application to C-Corps, S-Corps and Sub-K Partnerships?
What is its application to Rental Income?
What is its application to Trusts and Estates?
What strategies can you use to reduce or eliminate the Net Investment Income Tax?
How do the Final Regs differ from the Proposed Regs?
What issues are still pending guidance (and what to tell clients)?
PROGRAM DETAILS:
Program Title: Understanding the 3.8% Net Investment Income Tax and Its Effect on Individuals, Trusts & Estates, and Closely Held Entities - - After the Final Regs
Date: Tuesday, January 14, 2014
Time: 9am Pacific (10am Mountain, 11am Central, 12pm Eastern)
Duration: 90 minutes
Cost: $135 for NAEPC Members for Immediate Download /
Unable to participate on January 14th? $185 for NAEPC Members for Printed Materials & CD (plus shipping & handling)
Registration Includes: Participation on live teleconference (including Q&A), Handout Materials (if any), MP3 Audio Recording and a Certificate of Completion.
Existing Benefits
2-Part Webinar Series with Robert S. Keebler - Planning After the DOMA Decision
Acquire Seminar Marketing
Advisys Back Room Technician
AfterSteps
American Dream Planner Software
Amicus Creative Media
BizActions enewsletters for practioners
BVR's Guide to Business Valuation Issues in Estate & Gift Tax edited by Linda Trugman, CPA/ABV, CBA, ASA, MBA
BVR's Training Packs - Webinar recordings & transcripts
CBData Software to Simplify Your Life
CrummeyService, America's Leading ILIT Software Company
DocuBank: Emergency Access to Vital Documents
Estate Planning Smarts, A Practical, User-Friendly, Action-Oriented Guide, By Deborah L. Jacobs
EstatePlanningBinders.com
Family Business Magazine
Fiserv Investment Services
Florida Domicile Handbook: Vital Information for New Florida Residents
Heart2Hearts: Workbook and Deck of Cards

International Genealogical Search Inc.
Klark Proposal Software
Konica Minolta Business Solutions
Lawgic, LLC
LegacyQuest, LLC
Legal Binder Now (LBN)
LegalVault - Revolutionizing Attorney Document Storage
My Perfect Will
My Personal DataSafe LLC, the Nation's Most Comprehensive System for Sharing and Managing Client Information
Oswald Companies Personal Excess Liability
Private Wealth Magazine Subscription
Ruby Receptionists
The ABA Checklist for Family Heirs: A Guide to Family History, Financial Plans and Final Wishes
Sterling Cut Glass
The Charitable Planning Desk Reference for Advisors
The National Underwriter Company
The Ultimate Estate Planner, Inc.
Trusts & Estates Magazine
Wall Street-themed Greeting Cards
WealthManagement.com
Wolters Kluwer Law & Business

Estate Planning Law Specialist (EPLS) Designation Information
Estate planning is an increasingly complex area of practice that requires specialized skill and education.
The Estate Law Specialist Board, Inc., an attorney-run subsidiary of the National Association of Estate Planners & Councils, is the only ABA-accredited program for certification of an attorney as an Estate Planning Law Specialist (other than certain state bar association programs which are only for residents of their particular states.) To obtain board-certified status, an attorney must demonstrate a high level of professionalism and commitment to the concept of specialization and meet the following requirements:
Five or more years practicing as an estate planning attorney during which at least 1/3 of the attorney's practice is devoted to estate planning
12 or more hours of continuing legal education in estate planning topics per year for the three years preceding application

Verification of professional liability insurance coverage

Recommendation from at least five colleagues who are not with the same firm as the applicant

Passing a comprehensive exam designed for estate planning practitioners
Please contact Susan Austin-Carney at the national office for more information about the EPLS program.
Please join us in congratulating those attorneys who obtained the EPLS designation in 2013:
| | |
| --- | --- |
| Scott N. Alperin, JD, EPLS, AEP® | Virginia Beach, VA |
| Kari D. Coultis, JD, EPLS | Wichita, KS |
| Katti Esp, JD, LL.M. (taxation), AEP®, EPLS | Bellingham, WA |
| R. Don Estes, LL.B., EPLS, AEP® | Minneapolis, MN |
| Jeffrey L. Knapp, JD, EPLS, AEP® | Basking Ridge, NJ |
| Howard W. Neiswender, JD, LL.M. (taxation), EPLS | Birmingham, AL |
| Joel D. Roettger, JD, LL.M. (taxation), EPLS | Knoxville, TN |
| James J. Ruggiero, Jr., JD, AEP®, EPLS | Paoli, PA |
| Jeff Vandrew, Jr., JD, CPA, EPLS | Egg Harbor Township, NJ |
| C. Douglas Welty, II, JD, EPLS, AEP® | Arlington, VA |
| Daniel J. Wintz, JD, EPLS | Omaha, NE |
Get Involved!
Talented Volunteers Needed!
NAEPC is a dynamic and growing association comprised of affiliated local estate planning councils, their 28,000 members, and Accredited Estate Planner® designees, led entirely by a volunteer board of directors, a strong committee configuration, and many volunteers serving on an as-needed basis for project-based or task force work. We are always looking to expand our volunteer base and encourage council leaders, council members, and designees to get involved by serving on one or more committee. Visit our website for a list of committees and an application.

Subscription Options
You are receiving this message because of your affiliation with NAEPC or because your local estate planning council asked for its members to be included, no more frequently than six times per year. To unsubscribe from messages like this one, please use the link at the bottom of this message to remove your address from our distribution list.
If you want to receive more frequent and timely communication about the NAEPC and its educational programming and member benefits, please be sure to subscribe for more frequent communications.
National Association of Estate Planners & Councils 1120 Chester Avenue, Suite 470 Cleveland, OH 44114
Phone: (866) 226-2224 ~ Fax: (216) 696-2582 ~ E-Mail: admin@naepc.org

© 2014, All Rights Reserved. See Privacy Policy.
{VR_SOCIAL_SHARING}