Gregory E. Sellers, CPA, AEP®
Warren Averett, LLC
Montgomery, Alabama

Happy Spring fellow estate planners!

The last time I wrote this message, I was sitting in my home during a snow storm in the Deep South. Everyone across the US (except maybe Hawaii and our friends in southern California) has endured a long and especially cold winter. But we have exited the wintery cloak, and entered into a time when the trees, grasses and plants return to green and color. Isn't it revitalizing to emerge from the stark winter into the life of Spring!

We have completed the first quarter of this year, and we have made it past Tax Day, April 15. Contrary to the public belief, we do continue to work after April 15. As a matter of fact, those of us in the estate business know that there is a due date every month and based on a decedent's date of death, there can be a due date any day.

The first quarter is behind us. Your board and the many committee volunteers have been hard at work initiating and implementing great plans for the strategic vision of your association. In a few days our board of directors will be meeting at our 51st Annual Conference location in San Antonio. In addition to the reports from the committees, we will be developing plans for the future, with one eye on the past. Three years ago, we were at the same location, and it will be exciting to revisit where we were and how far we have come. Even more exciting, however, will be determining where we will go and how we will get there.

How will we get there? Just like all of our modes of transportation, planes, trains and automobiles, our NAEPC member benefits and services help us provide excellent service to our clients. Our monthly webinars are an excellent source for low cost, up to date, quality education for our members. These webinar programs are many of the same excellent speakers from our past and upcoming conferences. The AEP® designation continues to grow as more and more estate planning professionals realize the need to supplement their gateway credential with the designation that defines their commitment to providing estate planning services. And local council leaders, talk to the national office to find out how the "new and improved" NAEPC council websites can work for your council.

Finally, the First Quarter 2014 NAEPC Journal of Estate & Tax Planning has just been released. Take a few moments to peruse the Editor's Column written by Journal co-chair, Susan Rounds, and the fourteen new articles provided by many different sources and covering all angles of estate planning. These articles are recent publications, but did you know that the article archives can be searched for topics of interest, making your Journal a resource for quick and easy access to a world of information.

Enjoy the next couple of months, but keep in mind that while you and your local councils take a break, NAEPC is still there working for you. Let us know how we can help you serve your clients. We are at your service.





Who are we as fiduciaries? A little common sense.

With all the talk and legalese surrounding the notion of "fiduciary duty" it is helpful to remember that the issue is not as complicated as attorneys and regulators like to make it. If we look at the ordinary uses of words rather than the regulatory overkill we find that those meanings are often quite simple. Basic meanings of words are important, because language is the glue that binds us together as a group. To distort the meanings of words is to loosen those bonds. Those bonds create an "ethos" or custom which informs us about what is acceptable behavior–ethics.

If the philosopher Ludwig Wittgenstein is correct in asserting that the meaning of a word is often found by looking at what it is used for…READ MORE

Ronald Duska, PhD

| | | |
| --- | --- | --- |
| Follow us on: | | |
| | | |



NAEPC Monthly Webinar Series

Please join us for the next (or an upcoming) webinar in our 2014 series!
Continuing Education Credit

Continuing education credit will be available at each webinar for Accredited Estate Planner® designees. In addition, a certificate of completion will be made available for those professionals that feel the program satisfies their continuing education requirements and are able to self-file. Councils may also file the program in their home state for programs offered in a group setting.
Registration Fee

•$40 / Accredited Estate Planner® designee (dues must be current at the time of registration)
•$60 / member of an affiliated local estate planning council or at-large member of NAEPC
•$100 / individual non-member
•$250 / council meeting or group gathering (council dues must be current at the time of registration)
Next Program
Wednesday, May 14, 2014
3:00 pm - 4:00 pm ET
"Cognitive Errors in Group Decision Making"

Expertise offered by:
Nancy B. Rapoport, JD
About the program:
This webinar will cover some universal cognitive biases and applying them to typical group decisionmaking issues. As part of the webinar, we'll relate cognitive biases to ethics.

About the speaker:
Nancy B. Rapoport is the Gordon Silver Professor at the William S. Boyd School of Law, University of Nevada, Las Vegas. Her research fields intersect professional responsibility with bankruptcy law, corporate governance, pop culture, and social science. Nancy spoke at the 50th Annual Conference of NAEPC and The NAEPC Education last November and was quite the hit! Please plan on joining us for this exciting webinar.
This program is suitable for all levels of knowledge.
Upcoming Programs

June 11, 2014 – Laura J. Malone, CAP®, CEPA – "Helping Clients Create Their Charitable Legacy" REGISTER

July 9, 2014 - Paul S. Lee, JD, LL.M., AEP® (Distinguished) Nominee - "Family Investment Partnerships: Structure, Design, Issues & Problems (Beyond the Valuation Discount)" REGISTER

Missed a live program? Not to worry!

Archives of all programs are available by clicking HERE. The fee to participate is the same as the live feed.


| | |
| --- | --- |
| "Perspectives on the Future of Estate Planning as a Profession" | Lawrence Brody, JD, LL.M., AEP® (Distinguished) ∙ Stuart Kessler, CPA/PFS, JD, LL.M., AEP® (Distinguished) & Jeffrey N. Pennell, JD |
| "Special Needs Trusts, What Every Estate Planner Needs to Know" | Bernard A. Krooks, JD, CPA, LL.M., CELA, AEP® |
| "The Changing Landscape of Planning for Gay and Lesbian Couples: Opportunities (and Risks) Post-DOMA" | Erica Nadeau, CPA & Scott E. Squillace, Esq. |
| "The Hybrid Domestic Asset Protection Trust: a Third-Party Trust That Can Turn Into a Self-Settled Trust" (Intermediate / Advanced) | Steven J. Oshins , JD, AEP® (Distinguished) |
| "How Collaborative Teams Work and Why They Are Essential For High Net Worth Clients" (All levels) | Albert E. Gibbons, CLU®, ChFC®, AEP® (Distinguished) / AEG Financial Services |
| "2014 Heckerling Institute Highlights" (Intermediate) | Martin M. Shenkman, CPA, PFS, MBA, JD, AEP® (Distinguished) |
| "The ATRA-Math: Estate Planning After the American Taxpayer Relief Act of 2012" (Intermediate) | Thomas J. Pauloski, JD |

Accredited Estate Planner® - Join a Growing Group of Professionals Who Recognize the Need to Stand Out in the Estate Planning Crowd

M. Eileen Dougherty, CTFA, CFP®, AEP®, ChFC®
Hawthorn - PNC Family Wealth
Philadelphia, PA

We are fast approaching 2,000 designated professionals nationwide, why should you also become an Accredited Estate Planner® (AEP®)?
Gain the competitive edge…success requires setting yourself apart from the competition
Demonstrate that you have special knowledge, skill, and expertise in the field of estate planning
Give your clients and potential clients a way to identify you as a qualified estate planner who is able to meet their needs
While full details can be found online, read on for an abbreviated list of qualifications and requirements:
Credential - active license or certification as an attorney (JD), accountant (CPA), insurance professional and financial planner (CLU®, CFP®, ChFC®), or trust officer (CTFA)
Experience - minimum of 5 years of experience in estate planning
Education - applicants must successfully complete 2 graduate courses from The American College or similar graduate courses through an accredited university, college or school of law as part of a masters' or doctoral degree program (a minimum of 15 years of experience in estate planning exempts one from this requirement)
Membership - applicants must be a member of an affiliated local estate planning council where one is geographically available
Reputation & Character - an applicant must provide 3 professional references; one of whom must share the same primary discipline and 2 others must be from 2 different disciplines
Continuing Education - an applicant must have a minimum of 30 hours of continuing education, 15 of which must be in estate planning, every 24 months
Ethics - applicants must sign a declaration statement to continuously abide by the NAEPC Code of Ethics
Core Mission - applicants must acknowledge a commitment to the team concept of estate planning
Interested in learning more? Please contact our national office at (866) 226-2224 or susan@naepc.org.
Please join us in congratulating the newly designated Accredited Estate Planner® designees nationwide:

| | |
| --- | --- |
| Robert Lloyd Bjur, CFP®, CFC, CWA, AEP® | Bainbridge Island, WA |
| William J. Boersma, CLU®, LIC, AEP® | Grand Rapids, MI |
| Riley John Busenlener, CPA/ABV, ASA, JD, AEP® | New Orleans, LA |
| Steven M. Carr, JD, LL.M. (taxation), AEP® | Boston, MA |
| Brian J. Cummings, CFP®, ChFC®, AEP® | Charleston, SC |
| Jerry J. David, CLU®, CFP®, MBA, AEP® | Milwaukee, WI |
| Kenneth K. Haycraft, CFP®, ChFC®, CLU®, CWS, MBA, AEP® | Scottsdale, AZ |
| Dale Ann Kaiser , JD, AEP® | Wellesley, MA |
| Adam P. Keller, CFP®, AEP® | Richardson TX |
| Patrick Alexander Kessel, ChFC®, CLU®, CASL, LUTCF, FSS, AEP® | Keosauqua, IA |
| Kay Lynn Mayhue, CFP®, AEP® | Atlanta GA |
| Michael S. Orentlich, CLU®, CFP®, ChFC®, CASL, AEP® | Westborough, MA |
| Mitchell William Ostrove, CLU®, ChFC®, AEP® | White Plains, NY |
| James Peluso, CTFA, AEP® | Melville, NY |
| Vicente M. A.Pina, CLU®, ChFC®, FLMI, LLIF, AEP® | Portland, OR |
| Lisa M. Rico, JD, LL.M. (taxation), AEP® | Needham, MA |
| Steven M. Ruderman, CPA, CFP®, CRPC, AEP® | Houston, TX |
| Keith A. Schmidt, CPA/PFS, AEP® | Spokane, WA |
| Garnet M. Sherman, CFP®, AEP® | Highland Park, IL |
| Beverly S. Virciglio, CPA, AEP® | Birmingham, AL |
| Wayne W. Wilson, JD, EPLS, AEP® | Madison, WI |

51st Annual Conference – Please plan to join us on November 5th – 7th, 2014 for the 51st NAEPC Annual Conference in San Antonio
S. Mark Alton, CFP®, ChFC®, CLU®, CAP®, AEP®, MSFS, CPWA®
The Armory Group at Morgan Stanley Smith Barney, LLC
Syracuse, New York
BREAKING NEWS!
Registration is now open; you can download and view the early bird brochure here.
Online hotel reservations are also open.
The world–famous San Antonio River Walk is a verdant oasis of cypress–lined paved paths, arched stone bridges and lush landscapes. It gently winds through the city center, providing millions of visitors each year with easy access to the city's cultural hot spots, well–preserved historical sites and other attractions. It's the perfect place for networking, nightlife and entertainment. Our hosting property, The San Antonio Marriott Rivercenter, is just steps away from the Riverwalk, and is conveniently located near many area attractions, including Six Flags Fiesta Texas and the San Antonio Zoo. The Alamo, one of the nation's most storied and revered landmarks, is within easy walking distance from the hotel as well.
This year's conference theme is "The Multi–Disciplinary Approach to Estate Planning." Multi–disciplinary teaming is challenging. It requires a common vision, and shared values. There are issues with respect to team dynamics, communication and designating roles and responsibilities on the team. Our speakers will weave into their presentations how to build a high performing, multi–disciplinary team of designated professionals, who collaborate with one another to achieve the ultimate purpose the wealth was designed to accomplish for the wealth holder, his or her family, and the institutions and causes they care most about. Why not consider forming your own elite professional network, and travelling to the conference together, as a team? Please consider joining us in November for this very special program.
We are most grateful for the support of our conference sponsors, including Premier Sponsor:

Sponsorship Opportunities

The Annual Conference offers a unique and affordable opportunity to connect with an estimated 500 attendees at the annual conference. In addition, many of these attendees report back to their affiliated local estate planning council about their experience! Don't miss your opportunity to participate in NAEPC's only national, face-to-face meeting each year - sign up to sponsor or exhibit now! Questions about sponsoring or exhibiting may be directed to Ed Socorro at ESocorro@NAEPCmarketing.org or 312-600-5303.

NAEPC Journal of Estate & Tax Planning
Charles V. Douglas, JD, CFP®, AEP®
Wachovia Wealth Management
Atlanta, Georgia
We are excited to announce the release of the first issue of the NAEPC Journal of Estate & Tax Planning of 2014, along with a new look and feel for the publication!
The issue current issue contains 14 articles, including "Current Valuation Issues Involving FLPS, LLCS and Other Closely Held Entities" by John W. Porter, BBA, JD, AEP® (Distinguished). Take a look today… and don't forget, the Journal also offers an archive of past issues and a list of conferences related to estate planning!

Council Relations Committee Report
Paul S. Viren, CLU®, ChFC®, AEP®
Viren & Associates, Inc.
Spokane, WA

Paul J. Pantano, CLU®, ChFC®, AEP® , CASL, MSFS
The Luttner Financial Group, Ltd.
Pittsburgh, PA
The NAEPC Council Relations Committee has one huge task – to help our 250 councils understand the benefits that they can take advantage of and those benefits that their members can take advantage of. If that seems like a big job, you're right!
This newsletter is a great starting point as it reviews all of the benefits available to you, a member of an affiliated local council. To recap, some of the offerings are:
Your council has chosen to remain a member of NAEPC, and as a result, you are a part of the national network of estate planning professionals! We are 250 councils strong and within those councils there are an estimated 28,000 individual members, each of whom are committed to our shared core value - the multi-disciplinary approach to estate planning! Thank you for being a member of your affiliated local council and for reading this newsletter!
Member Benefits, Programs & Services
Julie A. Buschman, CPA, AEP®
Bessemer Trust Company, N.A.
Dallas, Texas
All members of affiliated local councils have access to the growing list of benefits provided through the council's affiliation with NAEPC, a list of which appears below. You are encouraged to visit www.naepc.org to take a look today. As you browse, please remember that some benefits are password protected. For these special benefits members must utilize a user name/password to access detailed ordering links and information. If you are an At-large member or member of a council that utilizes passwords on a website hosted by NAEPC, you can use the "I forgot my password" option. Others should contact NAEPC with questions about the appropriate user name/password combination.
New Benefits
Cloudia Assistant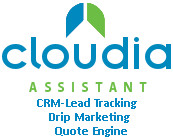 Commissions are down. Expenses are up. It's time to start being frugal and increase profitability… the days of waste are over. Stop overpaying for overpriced:
CRM's bloated with features you'll never use
Drip Marketing programs that are difficult to configure and use
Automatic Commission Calculation systems

Lead Tracking systems
Training & Support
QUOTE ENGINES that are limited in what they actually quote
Now you can get Cloudia Assistant, the top CRM created by an insurance company for insurance agents and agencies, for only $29.99 per user per month. Cloudia Assistant includes the most powerful and easy to use drip marketing system available, automated commission calculation system, lead tracking, free training and support, and, if you mention you were referred by NAEPC, you will get our quote engine absolutely free until July 4, 2015. Also, our quote engine quotes more than you think:
Health
Dental
Indemnity
Short Term
Accident
Critical Illness
That means you can quote package deals for your customers covering all their needs in one shot. Cloudia Assistant is so focused on your success that it will even text you when your client has reviewed the quote so you can act fast to respond while they are in the frame of mind to buy insurance.
Get Cloudia and get affordability, ease of use, a quick learning curve, free support and a free quote engine for more than a year. There is not a better value for insurance people anywhere!
Call 817-778-4508 or e-mail info@cloudiaassistant.com for more information, demo or Click Here to Sign-Up for a free 15 day look. Please place "NAEPC" in the field asking for your referral.
Please log into our members-only area for special pricing and ordering links.


I-ASK (International Association of Story Keepers)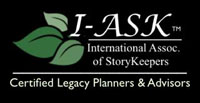 I-ASK is a network of Certified Legacy Planners, estate planners and wealth managers dedicated to educating families about the value of holistic estate planning. Members team up to provide educational seminars, focusing on the valuables and the values side of estate planning, differentiating them in the marketplace.
I-ASK members provide advice and assistance to individuals and families in LegacyStories.org, a family history web library, offering everything needed to organize, preserve and pass down a durable legacy portfolio.
I-ASK Professional Membership is $149/year and includes:
Listing in the LegacyStories.org expert directory: http://www.legacystories.org/

Licensed marketing collateral and presentation videos

Live holistic estate planning educational and marketing webinars

Legacy Vault for cloud-secured legacy portfolio storage

Discounts on legacy-builder toolkits and other products and premiums

Networking with members for reciprocal client referrals

Learn more here: http://www.legacystories.org/about/estate-planner

NAEPC members are entitled to a 20% discount on their I-ASK Membership. For security reasons, our coupon codes change frequently. Please send coupon requests to support@LegacyStories.org and include your name, phone number, and the name of your affiliated local council.
Please log into our members-only area for special pricing and ordering links.
AICPA Conference on Tax Strategies for the High-Income Individual, May 19-20, 2014 - Las Vegas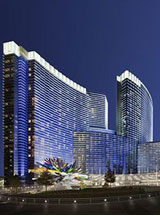 Brought to you by the AICPA, this high-impact conference is your chance to dig deep into new tax policies, measure their impact and define clear objectives for the future of your high-income clients. Top tax experts will get you up to speed on the 3.8% surtax, the Affordable Care Act and the implications of the Supreme Court decision on same-sex couples. Plus, you will learn strategies for minimizing the impact of increased tax rates, so you can take action on key issues with confidence. Become an ally to your high-income clients and expand your role as a trusted adviser. Take your first step with this conference.

Download the brochure HERE!

NAEPC members can take advantage of a special discount, creatively named "NAEPCTAX," which provides $100 off the onsite or online registration fees. This special offer can be combined with the AICPA member discount and the AICPA section discounts.

See complete information about AICPA Conference on Tax Strategies for the High-Income Individual, May 19-20, 2014 - Las Vegas.
Existing Benefits
Acquire Seminar Marketing
Advisys Back Room Technician
American Dream Planner Software
Amicus Creative Media
BizActions enewsletters for practioners
BVR's Guide to Business Valuation Issues in Estate & Gift Tax edited by Linda Trugman, CPA/ABV, CBA, ASA, MBA
Cards for a Cure
Charitable Planning Desk Reference for Advisors offered by Strategic Philanthropy
CBData Software to Simplify Your Life
Cloudia Assistant
CrummeyService, America's Leading ILIT Software Company
DocuBank: Emergency Access to Vital Documents
Estate Planning Smarts, A Practical, User-Friendly, Action-Oriented Guide, By Deborah L. Jacobs
EstatePlanningBinders.com
Family Business Magazine
Fiserv Investment Services
Florida Domicile Handbook: Vital Information for New Florida Residents
Heart2Hearts: Workbook and Deck of Cards, Discuss Directives, LLC

International Genealogical Search Inc.
International Association of StoryKeepers (I-ASK)
Klark Proposal Software
Konica Minolta Business Solutions
Lawgic, LLC
LegacyQuest, LLC
Legal Binder Now (LBN)
LegalVault - Revolutionizing Attorney Document Storage
My Perfect Will
My Personal DataSafe LLC, the Nation's Most Comprehensive System for Sharing and Managing Client Information
NationalUnderwriter.com
Oswald Companies Personal Excess Liability
Private Wealth Magazine Subscription
Ruby Receptionists
The ABA Checklist for Family Heirs: A Guide to Family History, Financial Plans and Final Wishes
Sterling Cut Glass
The Ultimate Estate Planner, Inc.
Trusts & Estates Magazine
Veracity – MTG (payment processing solutions)
Wall Street-themed Greeting Cards
WealthManagement.com
Wolters Kluwer Law & Business

Talented Volunteers Needed!
NAEPC is a dynamic and growing association comprised of affiliated local estate planning councils, their 28,000 members, and Accredited Estate Planner® designees, led entirely by a volunteer board of directors, a strong committee configuration, and many volunteers serving on an as-needed basis for project-based or task force work. We are always looking to expand our volunteer base and encourage council leaders, council members, and designees to get involved by serving on one or more committee. Visit our website for a list of committees and an application.

You are receiving this message because of your affiliation with NAEPC or because your local estate planning council asked for its members to be included, no more frequently than six times per year. To unsubscribe from messages like this one, please use the link at the bottom of this message to remove your address from our distribution list.
If you want to receive more frequent and timely communication about the NAEPC and its educational programming and member benefits, please be sure to subscribe for more frequent communications.
National Association of Estate Planners & Councils 1120 Chester Avenue, Suite 470 Cleveland, OH 44114
Phone: (866) 226-2224 ~ Fax: (216) 696-2582 ~ E-Mail: admin@naepc.org

© 2014, All Rights Reserved. See Privacy Policy.
{VR_SOCIAL_SHARING}