LegacyStories.org - Legacy Stories Handbook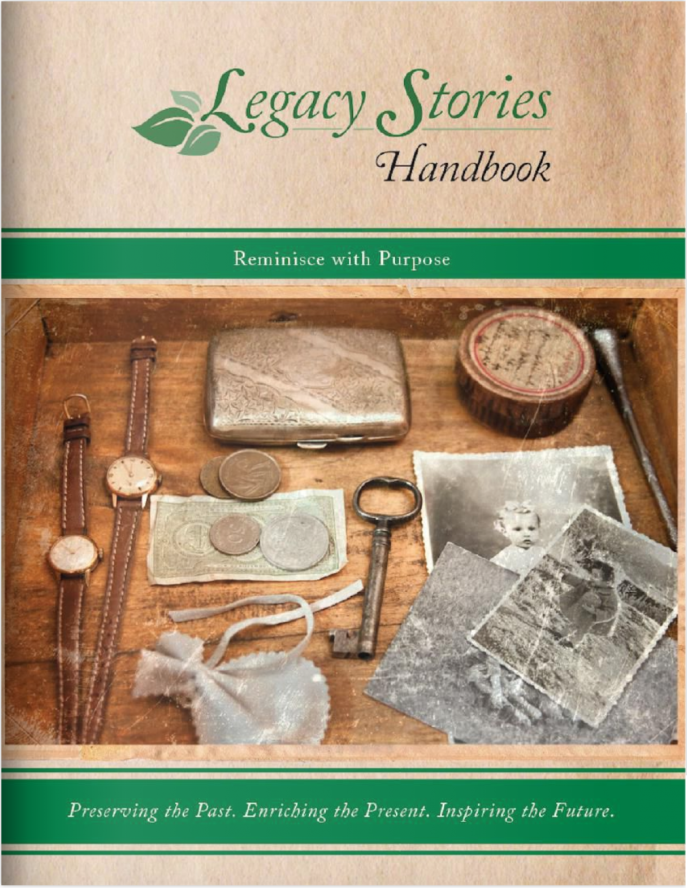 The Legacy Stories Handbook is part of a client-enrichment and retention solution that helps clients pass down their wisdom along with their wealth. The handbook and supporting program can be easily bolted on to existing estate plans or used by the client and family to build the elder's legacy together.
LEGACY QUESTIONS- Select from over 230 legacy questions ranging from ancestors, childhood, teen years, education, marriage, family, business and career, to faith, wisdom, and a special section for veteran experiences.
LEGACY ASSET CHECKLIST- Most of our life-defining moments, milestones and special memories have already been recorded in family photos, and collected in special keepsakes, mementos, recipes, awards, newspaper announcements, etc. The Legacy Asset Checklist helps to curate these treasures to be included in the storytelling process, and becomes an important part of a will or estate plan.
LEGACY TALKS- Learn how to conduct quality interviews, how to prepare the room environment, and how to engage family members in the process of building their elders' legacies.
LEGACY STORIES MOBILE APP- We dedicated a page in the Handbook to explain how our free IOS or Android app takes a picture of the teller, legacy artifact or photo, and records the teller's voice, personality and dialect, while reminiscing. Most family members own a smart phone or tablet these days and will find the app easy and intuitive to use after watching a brief built-in video tutorial.
LEGACY LETTERS- With our templates, the elder can write words of wisdom and intimate messages as part of an ethical will. Templates include "To My Children, To My Grandchildren, What I Am Most Grateful For", "What You Should Know About Me", and others.
LEGACY FAMILY TREE- We've prepared a basic pedigree chart to include important information about parents, grandparents, siblings, spouse and children. This adds to the value of the handbook and helps to recall family history only the elder may know.
LEGACYSTORIES.ORG WEBSITE- The Handbook also explains the main features in our free award-winning archival website where app recordings are uploaded to build a secure and shareable legacy portfolio. Once registered, family members can connect, share stories, and learn about your business.
Marketing Features:
LEGACY CONCIERGE DIRECTORY- Lifetime Listing in our popular Legacy Concierge Directory
LEGACY TALKS GROUP PRESENTATION- Compelling group presentation with video, handouts and outline
LEGACY REFERRAL NETWORK: Proven methods to generate high quality referrals from your prime referral sources
PASSIVE REVENUE STREAMS: Generate passive revenue with our preferred advisor affiliate program
NAEPC members are eligible for a 15% discount on all Legacy Stories Business Solutions. Apply code: NAEPC

Learn more about the Legacy Stories Handbook, the Legacy Values Plan and the Legacy Stories Outreach Program at: https://www.legacystories.org/lvp-go or www.LegacyStories.org.

Contact us by email: support@legacystories.org or call 888-405-9840.
09/26/16