NAEPC President's Message - July 2017

Paul S. Viren, CLU®, ChFC®, AEP®
Viren & Associates, Inc.
Spokane, WA
Summer is upon us! I wish you and your family a healthy and happy season! At NAEPC, we are in the midst of a summer "makeover" of our newsletter and website, among other exciting activities. Keep an eye out, you will see a brand new look and feel coming soon to your association of choice!
As I keyed my thoughts for this newsletter, fresh from our first of two annual face-to-face national board meetings not very long ago, I thought I would share a few "Did you know?" facts about NAEPC. Our top ten list, if you will!
Fact #1: As a member of an affiliated local council, you are granted membership rights at NAEPC and can take advantage of all of the benefits and services offered by the national organization.
Fact #2: Our mission is simple - Excellence in Estate Planning
Fact #3: This newsletter is your link to the "happenings" at NAEPC – make sure to keep an eye out for future issues.
Fact #4: NAEPC boasts over 270 affiliated estate planning councils, including their estimated 30,000 individual members.
Fact #5: NAEPC has over 70 dedicated volunteer board and committee members working hard to provide value to you, our member.
Fact #6: The Accredited Estate Planner® designation is the only graduate level, multi-disciplinary designation in estate planning.
Fact #7: At any given time, NAEPC offers approximately 40 discounted benefits to our members.
Fact #8: The Annual NAEPC Advanced Estate Planning Strategies Conference is available to the entire estate planning community and provides two full days of national, multi-disciplinary continuing education credit.
Fact #9: The Robert G. Alexander Webinar Series provides monthly educational events with the brightest minds in estate planning tackling touch technical topics in an understandable way. You can take advantage of the member rate to attend!
Fact #10: You can opt in to receiving more frequent communications from NAEPC in less than a minute.
I hope that you learned something new about NAEPC after reading the bullets above! I do hope for an opportunity to meet you in person this November 15-17 in New Orleans!
Until November,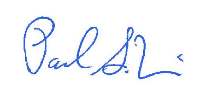 Paul S. Viren, CLU®, ChFC®, AEP®
Financial Planner