NAEPC President's Message - May 2017

I am humbled and amazed at the many thousands of volunteer hours that are given to the local Estate Planning Councils by volunteer leaders and committee members, with the high calling of connecting all of us as a broad advisor community. To learn, network and collaborate in service to our clients is so important and the success of our local Councils and NAEPC is because of these dedicated volunteers.
As I travel the country speaking, guiding, and encouraging these council volunteer leaders I am so thankful for their devotion to their members. Please also take a moment to thank your council volunteers!
I would be remiss in not also thanking our council executives and the NAEPC administrative team. I estimate there are over 125 paid staff members at the local council level. I know for my home council in Spokane, Heather DeMar is the glue that keeps the organization on the right path and covering all the details that go into running an Estate Planning Council, in essence making the volunteers shine! For NAEPC, Eleanor Spuhler is the Executive Manager and of course the heart and soul of NAEPC and is deserving of so much credit for her hard work and devotion to the mission of NAEPC. I also acknowledge Susan Austin-Carney, JD, who serves as the AEP® Designation Administrator for her exceptional efforts, work, and care for all of us AEP's, and to Sarah G. Butterfield for her support of the councils and technology-based portion of our member services. Make sure to thank these devoted members of our councils and NAEPC and please be sure to attend the Annual Advanced Estate Planning Strategies Conference where we can all meet n person!
If you have a desire to volunteer at the local or even national level there are always opportunities to serve. Contact your local council leaders to ask how you can help. To volunteer on a NAEPC committee please visit the link to complete the application, we are looking forward to your help and service.
We American's are generous with our time and talents. I believe volunteering for a professional organization like the local Councils and NAEPC is truly a gift. As we know in the estate planning world, time is the most precious asset and this gift is much appreciated by all of us!
We look forward your comments and ideas as we work together as a NAEPC community. Enjoy a delightful upcoming summer season.
With warmest regards,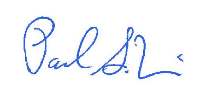 Paul S. Viren, CLU®, ChFC®, AEP®
Financial Planner