NAEPC President's Message - February/March 2017

March has always been a favorite month of mine! With the signs of new life and ever increasing daylight spring is my favorite season. For my home town of Spokane, Washington we have had a very hard winter and I am so looking forward to GREEN stuff instead of white and brown.
With this spring season there is a bunch going on with NAEPC that will benefit each of us as advisors as well as our valued Estate Planning Councils. Of course we are always looking for feedback and ideas. If there is an idea you would like share with us we value your feedback.
We hope you are making the NAEPC Journal of Estate and Tax Planning a part of your regular professional reading. These exceptional articles are compiled from our members who give us there favorite articles to share with our members. Please be on the lookout for us. If you are an AEP - these Inquiries and submissions receive priority consideration.
The naepc.org website is getting a facelift. This major project will offer a fresh window into the NAEPC world and provide you easier access to our amazing benefits and educational offerings.
Speaking of Member Benefits – This hard working committee is evaluating current and proposed benefits for our members and Councils. We would love to hear from you if there are benefits we should be offering and to leverage the valuable size of our organization to bring you discounts and access to resources that are truly a benefit of membership in NAEPC.
The AEP and Multi-Disciplinary Committees are working together to bring to our 1,800 AEP's new and expanded benefits. Being an AEP is the collaboration designation and sets you apart as a trained professional in working in a team environment for the benefit of the client. We continually strive to bring our AEP's the best in professional tools and resources to enhance your practice.
We look forward your comments and ideas as we work together as a NAEPC community. Enjoy a delightful spring season and I hope it is filled with new growth and the wonder of flower bouquets.
With Warmest Regards,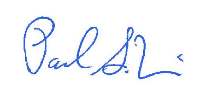 Paul S. Viren, CLU®, ChFC®, AEP®
Financial Planner