NAEPC Speakers Bureau
The NAEPC Online Speakers Bureau offers a variety of presenters who have expressed an interest in speaking to your affiliated local council. Each speaker listing includes contact information, a list of topics, total presentations per year, requirements, years of experience, and a list of the speaker's expertise. Please contact the speaker directly to obtain information regarding availability or fees.
The directory is searchable and will allow you to focus on name, topic, home state, zip code, or any combination of the above. If searching by zip code, speakers in surrounding areas will also be returned. If you live near a state border, please also check a zip code from the adjoining state.
To begin, enter your search criteria and click "Search." You will then see the specific information for all of the people that meet your criteria. If you see a limited number of options you may want to broaden your search. Please contact the NAEPC office if you experience problems.
Please be advised...
This directory is provided by NAEPC as a resource to its membership of affiliated local estate planning councils. NAEPC assumes no legal liability or responsibility for the accuracy, completeness, or usefulness of any information, product, process, or service offered to its membership. Inclusion within this directory is not an endorsement or recommendation for any particular speaker. Those included on the list have expressed an interest in speaking to NAEPC-affiliated local councils. These individuals may not have spoken to an EPC in the past and may not have been observed by NAEPC prior to being included in this resource.
Interested in becoming a speaker?
Download the application HERE.
---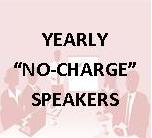 In addition to this resource, NAEPC offers each affiliated local council one speaker or webinar each year at no charge through the "No-Charge Speaker Program." A full packet of information can be downloaded HERE. The participating speakers are either current board members of NAEPC or past presidents and will offer both a technical presentation and a bit about NAEPC.
---