AdvisorAdit - Mobile Event Services for Councils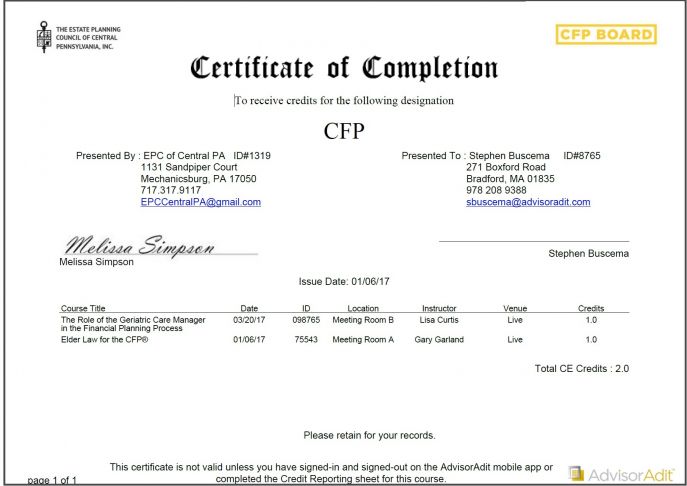 DIGITAL CONFERENCE BOOK - COURSE SURVEYS - ATTENDANCE TRACKING
Introducing New NAEPC Program: 50% off standard rates and a free trial!
Our suite of mobile event services is a cost-effective way to modernize your attendee experience.

With AdvisorAdit's suite of digital event services EPCs enjoy:
An intuitive attendee experience…available on any leading mobile device
Simple event set up and real time host monitoring, updating and reporting
Flexibility to use only the services that are right for your event
Special NAEPC pricing scaled to support small meetings to large expos
"I use a new tool called AdvisorAdit…It has eliminated all the paper sign in sheets for credit, all the report preparation plus instant certificates. Also, we can upload all the handouts for presentations and sponsor content. It does even more but even if it didn't it would still be great!"
- Melissa Simpson, EPC of Central PA
Our suite of digital event services… select the ones for you!
Digital Conference Book: For less than the cost of printing, you can offer attendees access to a fully branded app delivering all conference-related handouts. Consider enabling sponsors to add their own content. This is a fantastic way to "Go Green"!
Surveys: Dramatically increase attendee feedback with integrated course level surveys! Use our standard survey or create your own. Hosts can instantly share results with speakers and colleagues.
Attendance/CE Tracking: Stop collecting CE forms and wasting time and money on manual reporting! Members can apply for CEs (up to 7 designations) and even update their credentials. Hosts have full transparency and control with real time reports.
Certificates: Delight attendees with instant access to designation level certificates! With extended certificate access, you can even create your chapter's own "My CE" page on their website.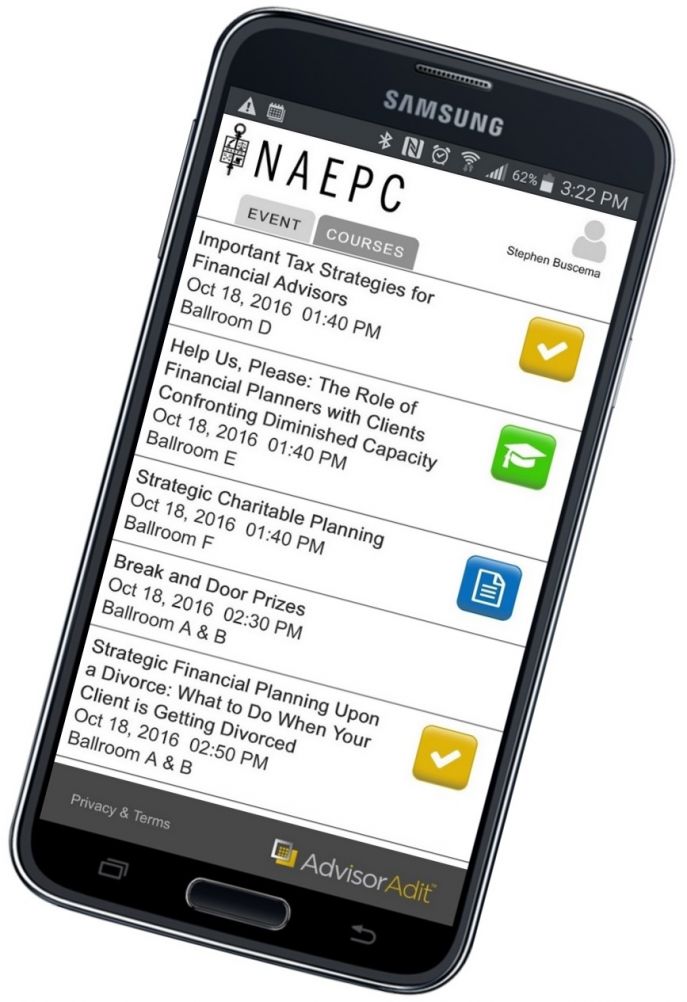 NAEPC Special Pricing – 50% off standard rates! ** Our pricing is simple and extremely cost effective: Just $1/attendee per service for a one day event for up to 3 designations. Contact us for additional services or large meeting discounts.
Contact us at info@advisoradit.com to learn more or to take advantage of our free trial!
*Free trial includes Digital Conference Book, Survey, Attendance/CE tracking, Certificates and reporting services for EPC content. Good for one event up to 50 attendees and up to 3 designations.
**Pricing available only to NAEPC-affilited councils.
04/05/17