Benefits for Members
Members of the National Association of Estate Planners & Councils and members of affiliated local councils are entitled to purchase the following publications and software at discount prices. Also see benefits available to affiliated local councils.
The National Association of Estate Planners & Councils provides this offering of Value Partners as a resource to its membership of designees, affiliated local estate planning councils, and members of affiliated local estate planning councils.
Reference within this website or newsletter of a specific product, process, or service does not constitute an endorsement or recommendation by NAEPC. NAEPC assumes no legal liability or responsibility for the accuracy, completeness, or usefulness of any information, product, process, or service offered to its membership.

See complete information about how to submit a new member benefit for review.
---
Many benefits are available grouped in the following categories:
Presentation Materials and Office Supplies
EstatePlanningBinders.com


High Quality Binders & Index Tabs for your Clients
Legal presentation binders contain important client documents. The binder should be a reflection of the quality of the work inside. Your clients will appreciate receiving their organized documents in our high quality Binders with Index Tabs.
Our current in
stock Binder titles:
Estate Planning Portfolio
Estate Planning Documents
Business Planning Portfolio
Company Documents
Corporate Documents
Financial Planning Portfolio
Irrevocable Trust Portfolio
Retirement Trust Portfolio
Special Needs Planning Portfolio
Gun Trust Portfolio
Trustee Manual
Each Binder includes up to 20 Stock Index Tabs of your choice! We recognize that each firm and client is unique and has specific requirements. For this reason, we developed an exceptional stock Index Tab program. You select the Index Tab titles your firm prefers from more than 118 stock titles.
We provide Free Ground Shipping on all stock orders to the Contiguous 48 States.
Most in stock orders ship the same day!
We also offer Binders with Your Firm Name/Logo, other Custom Binders, and Custom Index Tab Sets.
If your firm wants a specific look and feel,
EstatePlanningBinders.com
can produce it. We have been producing Binders and Index Tabs for more than 25 years and have a wealth of knowledge and expertise.
In addition to Binders and Index Tabs, we also produce:
Thousands of products available to apply your Firm Name/Logo!
Visit
EstatePlanningBinders.com
for Pricing,
Product Photos, Client Testimonials, etc.
As a
client, you can also take part in our Referral Rewards program.
We offer NAEPC members special discounted pricing.
03/17/16
Please log into our members-only area for special pricing and ordering links.
---
Legal Binders Now (LBN)

Legal Binders Now (LBN) is proud to be a Value Partner with NAEPC. Legal Binders Now manufactures high quality presentation products for your clients, featuring our Premium Estate Planning Portfolio Binders. Our products, manufactured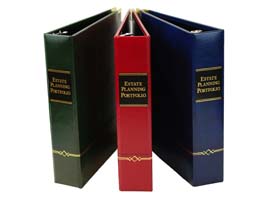 with the highest quality standards, will enhance your client presentation. LBN's line of presentation products will keep your clients' important documents and information organized and neatly stored for easy access at all times. And, our manufacturer-direct pricing will help you to reduce costs without comprising quality.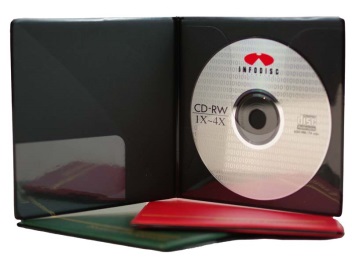 LBN's presentation products are manufactured in our state-of-the-art facility located in the Heartland of America. We manufacture using only the highest quality materials and craftsmanship. Each and every one of our products will allow you to be confident in the professional image that you want to display to your clients. To personalize your presentation products, we offer the option of custom imprinting your firm's information on all of our products.
As a Value Partner, we are pleased to offer special manufacturer-direct pricing on all of our products and for our custom imprinting options to all members of NAEPC and its affiliated local councils. Additionally, with each case of our premium or deluxe binders ordered, NAEPC members will receive 6 sets (1 case) of any of our stock line of Index Tab Dividers free with their purchase. Please visit our home page and click on NAEPC Members to create your Legal Binders Now account and access our NAEPC specials.
To receive your free Index Tab Dividers, select the divider set you want from the dropdown menu appearing with the binder.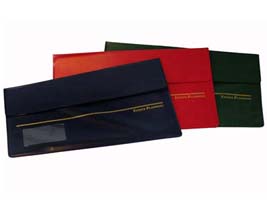 You can find detailed information about the dividers titles we offer by clicking on Dividers under the New Products tab on any page.
Please visit us at www.legalbindersnow.com to view all of our products available.
If you have any questions regarding our products, please contact one of our product specialists at sales@legalbindersnow.com. We will be glad to assist you.
All of us at Legal Binders Now look forward to working with you!
10/04/13
Please log into our members-only area for special pricing and ordering links.
---
The Life Documents Organizer Kit by Smead Manufacturing Company

Smead Manufacturing Company, a leader in office filing products and records management systems, was established in 1906 in Hastings, Minnesota. Smead is a privately held, certified Women's Business Enterprise (WBE) offering thousands of organizational products for use in the home or office. For more information on Smead's high-quality organizational products, including hundreds of products made in the USA visit www.smead.com.
The Life Documents Organizer Kit helps you organize and store key life documents such as wills & trusts, health care
directives, investment and retirement plans, marital documents and contact information. Having your papers in order alleviates the guesswork and stress of locating important documents in case of an emergency or occurrence of a life-changing event. Having your key life documents organized helps to ensure that your wishes and assets are managed, retained and distributed as needed while being less stressful for you and your loved ones. Each kit contains 6 colored hanging folders, 24 SuperTab® file folders, 1 sheet of Viewables Quick-Fold tabs, 3 label sheets with pre-printed labels and a detailed instruction sheet.
For more information on the Life Documents Organizer Kits, including a product overview video and assembly instructions, please visit the Smead ecommerce store at www.myorganized.life. NAEPC members receive a 20% discount when using the discount code found in the NAEPC members-only area.
06/28/16
Please log into our members-only area for special pricing and ordering links.
---