Complimentary Resources
---
ACTEC Trust and Estate Talk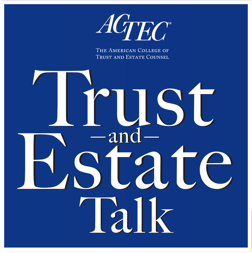 The American College of Trust and Estate Counsel, ACTEC, is a professional society of peer-elected trust and estate lawyers in the United States and around the globe. ACTEC Trust and Estate Talk is a free weekly podcast series that offers wealth professionals best practice advice, insights, and commentary on subjects that affect the profession and clients.
Past topics have included What Should Attorneys have in their Engagement Letters, State Law Pitfalls, Powers of Appointment, Security of Clients' Information, and 9100 Relief. You may listen and subscribe to the series through many popular podcast players:
New podcasts are also announced weekly on LinkedIn, Facebook and Twitter.
NAEPC is grateful to The American College of Trust and Estate Counsel for offering this valuable benefit to our members.
View Details
---
HeirSearch.com – A Division of International Genealogical Search Inc.

Many heir locator firms, otherwise known as "heir hunters," use questionable, high-pressure tactics to obtain excessive percentage fees of inheritances. In order to protect their percentage fees, heir hunters may withhold the name of the deceased, and even the amount of the inheritance until the heir agrees to sign a contract. This means heirs are being asked to sign away a percentage of an unknown amount and heir hunter fees can sometimes be as much as 50% of the person's inheritance. There is A Better Way.
Since 1967, at HeirSearch.com, we provide the legal and trust professions with forensic genealogy services A Better Way through our five-pillar approach that ensures reasonable, non-percentage based fees, authorized search services, a 97% success rate, documented court-ready reports and worldwide service. We welcome the opportunity to work with executors, administrators, trustees, fiduciaries, bank and trust officers, and their counsel.
To receive your complimentary copy of our Laminated Consanguinity Chart showing degrees of relationship by blood, please contact us at 1-800-663-2255 or email us at info@heirsearch.com. The Laminated Consanguinity Chart is a great resource to reference when meeting with clients or to use as an educational tool in seminars.
Visit our website at HeirSearch.com or download our brochure for more information.
08/13/18
View Details
---