Benefits for Members
Members of the National Association of Estate Planners & Councils and members of affiliated local councils are entitled to purchase the following publications and software at discount prices. Also see benefits available to affiliated local councils.
The National Association of Estate Planners & Councils provides this offering of Value Partners as a resource to its membership of designees, affiliated local estate planning councils, and members of affiliated local estate planning councils.
Reference within this website or newsletter of a specific product, process, or service does not constitute an endorsement or recommendation by NAEPC. NAEPC assumes no legal liability or responsibility for the accuracy, completeness, or usefulness of any information, product, process, or service offered to its membership.

See complete information about how to submit a new member benefit for review.
---
Many benefits are available grouped in the following categories:
Complimentary Resources
HeirSearch.com – A Division of International Genealogical Search Inc.
Many heir locator firms, otherwise known as "heir hunters," use questionable, high-pressure tactics to obtain excessive percentage fees of inheritances. In order to protect their percentage fees, heir hunters may withhold the name of the deceased, and even the amount of the inheritance until the heir agrees to sign a contract. This means heirs are being asked to sign away a percentage of an unknown amount and heir hunter fees can sometimes be as much as 50% of the person's inheritance. There is A Better Way.
Since 1967, at HeirSearch.com, we provide the legal and trust professions with forensic genealogy services A Better Way through our five-pillar approach that ensures reasonable, non-percentage based fees, authorized search services, a 97% success rate, documented court-ready reports and worldwide service. We welcome the opportunity to work with executors, administrators, trustees, fiduciaries, bank and trust officers, and their counsel.
To receive your complimentary copy of our Laminated Consanguinity Chart showing degrees of relationship by blood, please contact us at 1-800-663-2255 or email us at info@heirsearch.com. The Laminated Consanguinity Chart is a great resource to reference when meeting with clients or to use as an educational tool in seminars.
Visit our website at HeirSearch.com or download our brochure for more information.
07/29/16
---
NAEPC Journal of Estate & Tax Planning

The NAEPC Journal of Estate & Tax Planning is a web-based library of best-in-class thought leadership appropriate for every member of every estate planning council. Visit www.NAEPCJournal.org today to view current and past issues of the publication. Published quarterly and available at no-charge to all estate planning council members and Accredited Estate Planner designees, The Journal is considered to be one of the top benefits of membership in NAEPC.
Each quarterly publication includes featured content, newsletters from leading practitioners, and a wealth of practice-based information.
Ideas for future content may be submitted to editor@naepcjournal.org.
05/22/14
---
The Charitable Planning Desk Reference for Advisors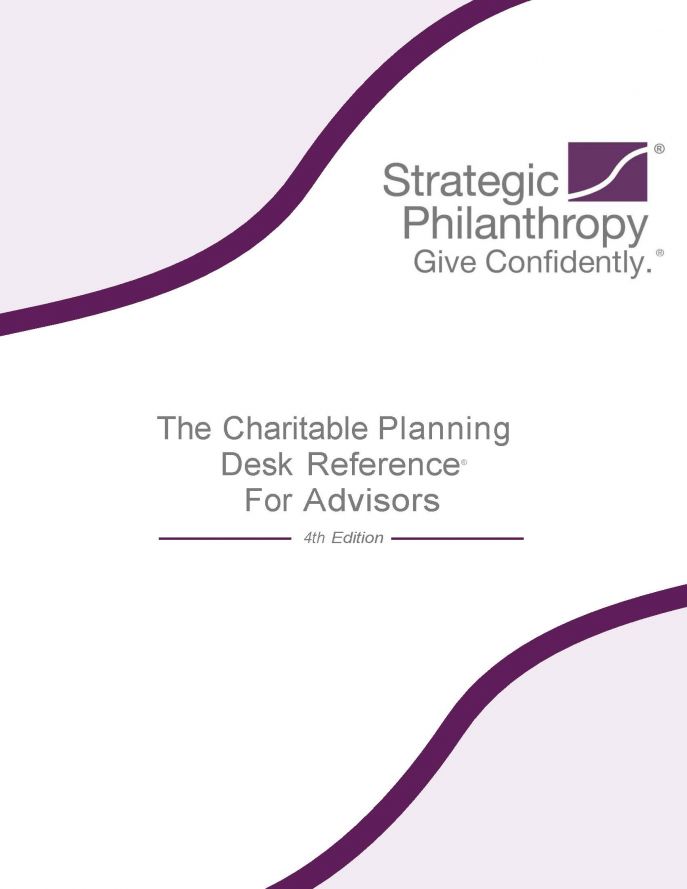 The Charitable Planning Desk Reference for Advisors®, now in its 4th edition was created by Strategic Philanthropy, Ltd., in collaboration with estate planning attorneys and wealth advisors. The Desk Reference is a practical resource designed to help legal and financial professionals more effectively engage their clients in conversations about their philanthropic intent, options and opportunities. The 4th Edition includes new chapters and an expanded resource section. It is the first such comprehensive tool developed specifically for the advisor community to support their integration of philanthropy as a value added and revenue opportunity in their practice.
Some of the topics in The Desk Reference cover:
Initiating the charitable conversation;
Using non-cash assets to fund charitable giving;
Benefits of Charitable Remainder and Charitable Lead Trusts
Engaging the next generation;
Fundamentals of International Giving
A comparative chart illustrating the benefits and limitations of vehicle choice and a resource guide for advisors, and;
The Desk Reference is available at no cost to the advisor community. Simply go to http://stratphilanthropy.com/charitable-planning-desk-reference and request your electronic copy.
02/28/17
---