Advance Choice, DocuBank: Emergency Access to Vital Documents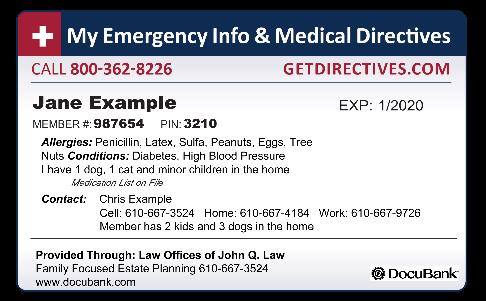 DocuBank solves a critical problem for your clients and creates ongoing opportunities for your firm. Find out more today.
A USA Today article highlights that, even with an electronic medical record system in place, having easy access to advance directives in a hospital is still a real issue.

The DocuBank Card solves this problem so that healthcare directives and other emergency information is immediately available to hospitals 24/7/365, anywhere in the world. The wallet card displays allergies, medical conditions, an emergency contact and allows hospitals to obtain healthcare directives, and a list of medications, immediately via fax or the web.
The online DocuBank SAFE provides your clients with online access to all of their other documents. Clients can store their estate plan, life insurance, real estate deeds and other other important legacy documents for easy access by their advisors and future heirs. Clients can also use SAFE to more securely share files with your firm, and your firm can upload documents for your clients.
DocuBank specializes in working with estate planning professionals to increase client conversion and retention by providing a low-cost, value-added service clients appreciate. DocuBank provides peace of mind for your clients and provides great marketing benefits for your firm!
Your firm's branding on all client cards and correspondence
Online Branding with your firm's logo on each client's login screen
Alert features act as referrals for next generation business
Features and benefits customized to your firm
DocuBank renewals can be a tangible addition to your client review program
DocuBank offers a special Council Introduction Package. Information on this program and specific discount information for individual members is available in the password-protected are of this website. DocuBank's turnkey system makes it easy to get started, and DocuBank will provide your firm with free brochures, sample cards, staff memberships, and personal training. Click here to begin providing DocuBank.
See complete information about DocuBank: Emergency Access to Vital Documents.
NAEPC members and members of affiliated local councils are eligible for substantial discounts when enrolling clients in DocuBank. With these discounts, the enrollment fee is currently $20 per person for 1 year and $60 per person for 5 years of membership (published rates are $55 and $175, respectively). Click here to begin providing DocuBank.
Special Offer for attorneys: New attorneys can prepay for their first ten 1-year client memberships for $99. This is a savings of $80.
A Special Council Meeting Offer. Do you have advance directives on your meeting calendar? Invite us to attend remotely and offer a 20 minute web or phone presentation of DocuBank as part of your next council meeting – we'll treat your council to lunch. Contact us for details.
05/01/16