Bloomberg BNA's Art of the Estate Tax Return by Keith Schiller
Art of the Estate Tax Return, Second Edition – Estate Planning at the Movies® provides in-depth tax analysis and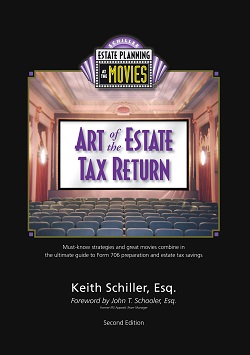 strategic counsel, while offering the ultimate in readability, by connecting well-known motion pictures to practical estate planning and compliance. These connections create great reminders of significant strategies or law, making the tax law fun.
Underlying the cinematic connections, the author shares his best practice tips from a career of preparing, reviewing, and defending estate tax returns, and his greater than 25 years of teaching experience for tax professionals.
This treatise explores the nuances of law and procedure that enter into the preparation and defense of Form 706, including:
Expanded coverage of portability elections
Illustrated estate tax returns
Maximizing valuation discounts and deductions
Protecting FLPs and FLLCs
Securing best appraisal results
Tips to avoid audits
Pointers on GST reporting
Cautions and help for fiduciaries
Warnings and opportunities from inconsistencies in the law
Strategies for audits and appeals
And much more!
Winner of the 2010-2011 Award for Outstanding Course Materials by the CalCPA Education Foundation.
Estate Planning At The Movies® is the registered trademark of Keith Schiller.
NAEPC members are entitled to a 20% discount on this publication, the promotion code can be obtained by logging in below and then navigating back to the benefit listing.
04/04/16
Please log into our members-only area for special pricing and ordering links.