The LastingMatters Organizer: A Tool to Deepen Relationships with Your Clients and their Next of Kin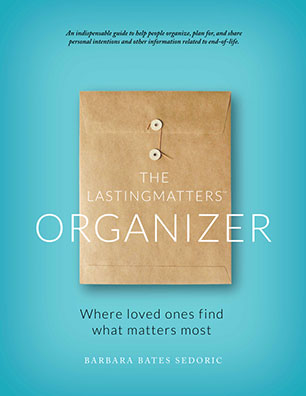 Who did mom want to deliver her eulogy?
Where is the safety deposit box? Key?
Who is her trustee?
How is the house titled? The stock accounts?
What about passwords for Facebook and her computer accounts?
As estate planners, you know all too well that these are just a few of many questions that quickly arise after someone dies or is incapacitated. Most troubling, the answers and wishes, unless clearly articulated ahead of time, can undermine even the most well thought out estate plan. Now, with The LastingMatters Organizer, estate planning professionals have a tool to help their clients collect and outline critical information and these very important "wishes."
With the Organizer, your clients will have at their fingertips a comprehensive easy-to-use resource that will inform and guide their families and heirs during a time of transition. The graphics, the direct questions, and its thoroughness make The LastingMatters Organizer an effective tool to supplement an estate plan – from the basic to complex – and help collect and clearly articulate a client's wishes on all aspects of their financial, personal, and online lives.
By incorporating The LastingMatters Organizer into the estate plan process, you can help your clients take one large step forward toward ensuring an orderly transition of their assets, their family knowledge and history, as well as their treasured personal belongings. Doing so will ultimately help family members, heirs and caregivers avoid the chaos and confusion that erupts all too often during these emotionally charged times.
NAEPC Members are entitiled to take advantage of a 15% discount price of $24.65 per copy when ordered at https://www.createspace.com/4751589 using discount code NVTWPECA.
The LastingMatters Organizer available at LastingMatters.com or Amazon. View sample pages
Barbara Bates Sedoric - Speaker Bio
Email: Barb@LastingMatters
Call 603-490-8305
09/26/16