Legal Directives, LLC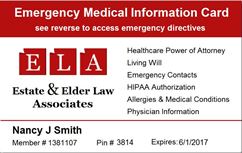 Legal Directives, LLC: Emergency Access to Healthcare Directives
Legal Directives, LLC partners with hundreds of estate planning attorneys and financial planners across the country to provide 24/7 access to clients' healthcare directives and emergency contacts. Their partner program is built to help client-focused estate planning, elder law, and financial planning practices thrive. Service is provided by electronically storing a copy of the client's healthcare directives and then making them available 24/7 by delivering a customized wallet card to the client with instructions for accessing the directives. In addition, we deliver a copy of the healthcare directives to your client's primary care physician.
Features of the Legal Directives Partner Program
Customized wallet cards - your colors, your logo
Delivery of wallet cards to your clients within two weeks of enrollment
Branded fax delivery of healthcare directives to client's primary care physician
Discounted enrollment rates for NAEPC members
Support team dedicated to the unique needs of estate planners
Complimentary client brochures
Special partner pricing
Customizable renewal dates for client memberships
Complimentary memberships for partner and partner staff
NAEPC members are entitled to a 25% discount on pricing. If you'd like to learn more about how Legal Directives can contribute to your success visit www.legaldirectives.com/partner_program.php and complete the Partner Program Contact Form. You may also contact us Monday - Friday, 8:30am- 5:00pm ET at 866-363-4894 to learn about our NAEPC partner benefits.
02/15/17