ConferenceAdit
CE Tracking, Digital Books & Surveys for Events

Managing your council's in-person events can be challenging. So much time is wasted by manually tracking continuing education credit, not to mention an attendee's annoyance with lines to access the sign in/out sheets and always remembering to bring their license numbers! ConferenceAdit's suite of services offers councils and similar associations an affordable option that dramatically streamlines attendance tracking, provides customized reporting, generates completion certificates, and immediately captures survey responses, all while improving the attendee experience at your events.
CE Tracking and Certificates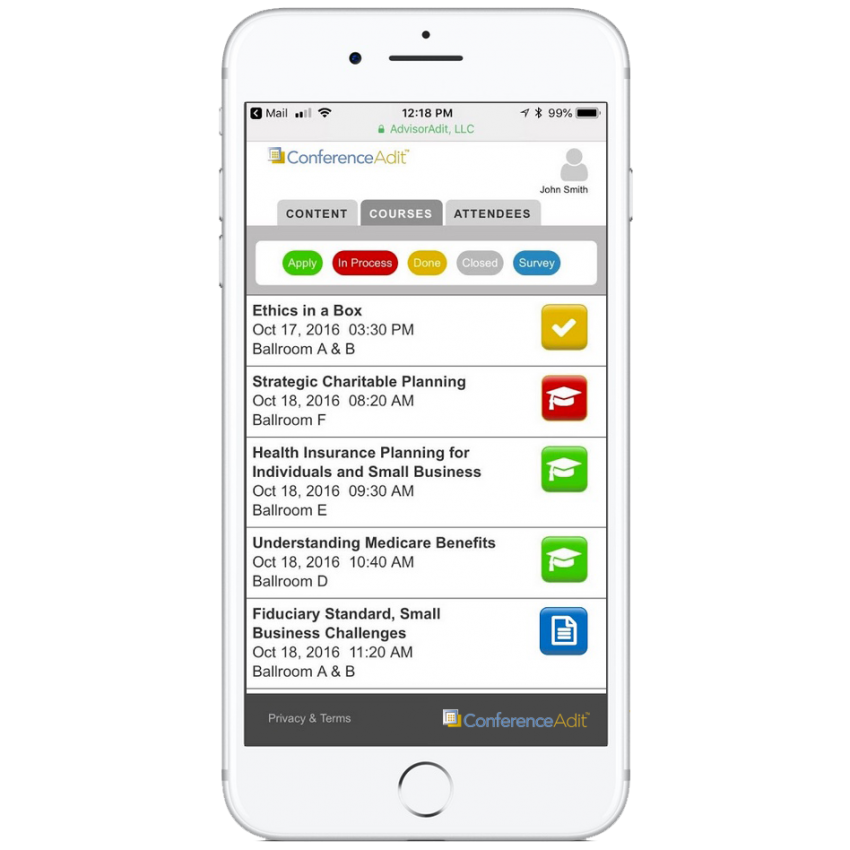 Stop wasting time and money on manual reporting! Members apply for CE and receive credit, right on their mobile device.
Course-Level Surveys
Dramatically increase attendee feedback by getting instant responses about the session.
Digital Conference Books
A significant savings when compared to printing, your council can offer a polished and fully-branded portal with event materials and the ability to include sponsors.
As the event host you will have full control over the CE experience. The interactive dashboard allows for easy event set-up, simple management of courses and attendees, and even offers the ability to communicate with attendees via text/email messaging.
> Learn more about the ConferenceAdit suite of services or call the ConferenceAdit team at 781-325-8761 to get started
> Get the attendee experience
NAEPC-affiliated councils receive a $50 savings on event set-up costs.
What We're Saying...
"I use a new tool called ConferenceAdit... it has eliminated all the paper sign in sheets for credit, all the report preparation, plus instant certificates. Also, we can upload all the handouts for presentations and sponsor content. It does even more, but even if it didn't, would still be great!
Melissa Simpson, Estate Planning Council of Central Pennsylvania
NAEPC used ConferenceAdit's Digital Conference Book, Course Surveys, and CE Tracking for the 55th Annual NAEPC Advanced Estate Planning Strategies Conference and had a fantastic experience. The system does exactly what it's designed to do, especially with regard to improving the attendee experience, and does it very well. With credit available in all states for all estate planning-related disciplines, this service was a wonderful addition to the conference.
Eleanor M. Spuhler, National Association of Estate Planners & Councils