Estate Planning Smarts: A Practical, User-Friendly, Action-Oriented Guide, By Deborah L. Jacobs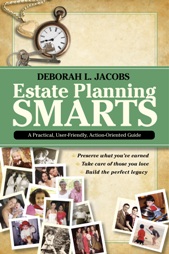 A lawyer and award-winning journalist makes readers more comfortable addressing a stressful topic. This book can educate clients before and after they meet with advisers. Estate Planning Smarts stands out from other books on this subject by:

• Explaining complex principles in simple terms
• Humanizing estate planning, with anecdotes about the estate plans of Paul Newman, Michael Jackson and others
• Including an action-oriented "to-do" list at the end of each chapter
• Recommending against a do-it-yourself approach, encouraging readers to seek professional advice and offering suggestions about how to find it

Here's what reviewers have said about this wonderful resource:

"A terrific guide for people who are just beginning to grapple with estate planning, as well as those who have (or think they have) their affairs in order."
– The Wall Street Journal

"This is a category killer: a book so good there's no need for anyone else to cover the same material."
– Kaye Thomas, tax lawyer, author, founder of Fairmark.com

"Simple—but not simplistic— this is a book you can feel comfortable giving as a business generating action oriented holiday gift."
– Steve Leimberg's Estate Planning Email Newsletter

While the estate tax is in flux, Estate Planning Smarts has another virtue: Jacobs issues updates that can be downloaded from the book's Web site, www.estateplanningsmarts.com, and tweets at http://twitter.com/djworking.

LIMITED TIME OFFER! NAEPC members may purchase this book at 20% discount from the list price of $24.95.
02/15/17
Please log into our members-only area for special pricing and ordering links.