Heart2Hearts: Workbook and Deck of Cards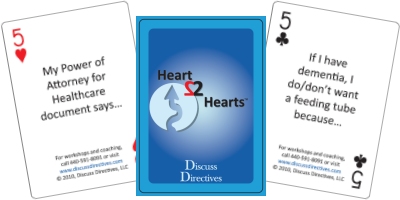 The Heart2Hearts™ Deck of Cards and Workbook are the perfect client gift! Read more below or visit the private link for additional details.
About the Heart2Hearts™ Deck of Cards
"How do I start a conversation about my end-of-life healthcare wishes?" "This is really uncomfortable." "What should I say?" These questions were asked over and over again by clients. As a result, the Heart2Hearts™ deck of cards was created as a tool to help your clients with 52 conversation starters. This tool will make for better estate planning with your clients. These cards can also generate estate planning business for your law firm. To learn how, call 440-591-8091.
About the Heart2Hearts™ Workbook...
Illness, death and dying are not topics that we like to broach. How do we even begin to answer the difficult questions about healthcare choices? Heart2Hearts™: The Workbook helps your clients make the most important conversation of their life easier. By completing this innovative workbook, they will have a source document that provides peace of mind. This will help the family know the wishes and follow them when the time comes.
In this workbook your clients will discover how easy it is to:
Overcome fears

Discover feelings regarding their loved ones

Improve communication

Share where important financial and legal documents are kept

Determine what is important to their quality of life

Ensure that their wishes will be followed
NAEPC members are eligible for a 10% discount on the deck of cards, workbook or bundle of both. They can be customized with your law firm's logo and contact information in purchases of 500 decks and up as it is a great marketing tool.
http://www.discussdirectives.com/heart2hearts_naepc.html​
02/15/17