Frequently Asked Questions:
NAEPC Advanced Estate Planning Strategies Conference
For information about the upcoming conference, please click HERE.
---
For Attendees
QUESTION: Is this conference going to be virtual forever?
ANSWER: No, we intend to return to an in-person event as soon as it is safe to do so.
QUESTION: Who should attend the annual conference?
ANSWER: The conference is for every estate planning professional and all estate planning council members. The content is built with attorneys, accountants, and professionals within the disciplines of insurance and financial planning, trust, and philanthropy in mind.
QUESTION: Isn't this a conference for estate planning council board members?
ANSWER: No! While the pre-conference sessions held at the in-person annual conference are for estate planning council leaders, the annual conference educational sessions (including the virtual conference) are for every professional.
QUESTION: Is continuing education credit available?
ANSWER: Yes. At in-person conferences credit is available for AEP® designees, nationally-governed designations, and for most state legal and insurance professionals. At virtual conferences, credit is available for AEP® designees, CFP® designees, and CTFA designees. We also provide a general certificate of completion for those who are able to self-file or who are self-reporting.
QUESTION: What makes this conference different from others?
ANSWER: The very same thing that sets NAEPC apart from other organizations - our multi-disciplinary attendees. At an NAEPC event you will find a diverse and well-rounded group of professionals representing the various disciplines related to the profession of estate planning.
QUESTION: Is my hotel room included with my registration?
ANSWER: No, it is a separate fee and must be reserved directly with the hotel by the cut-off date for reservations.
QUESTION: Is food included with my registration?
ANSWER: Most meals are included with a conference registration and dietary needs can be accommodated with proper and advance notice. We pride ourselves on offering well-rounded meals to prepare an attendee for a busy day of learning and meeting new people.

We are grateful to all of the sponsoring and exhibiting firms that support the association and its signature annual event each year.
​We encourage you to visit with the following sponsors of the 58th Annual NAEPC Advanced Estate Planning Strategies Virtual Conference in the days leading up to the November event: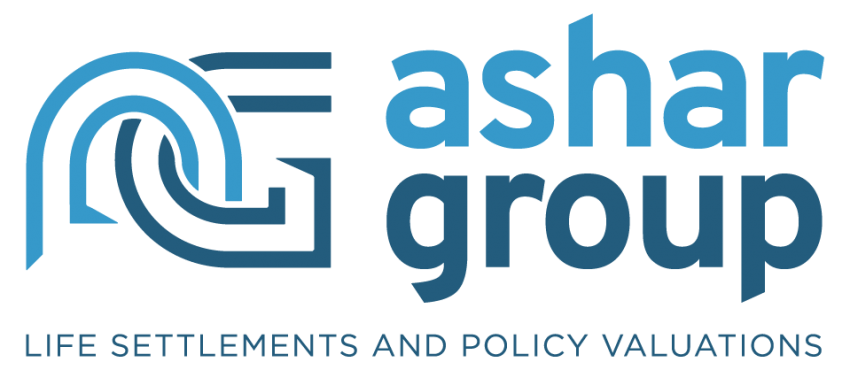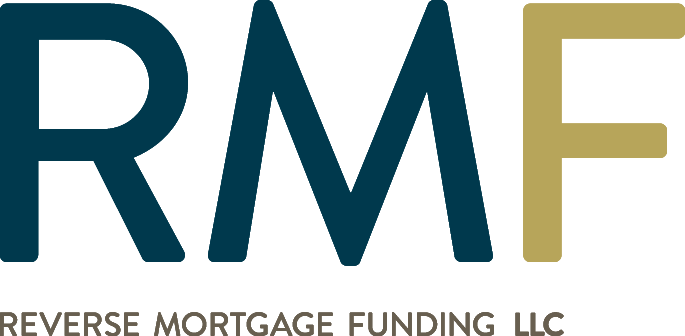 Click on each image below to watch a short introduction video for our sponsoring firms.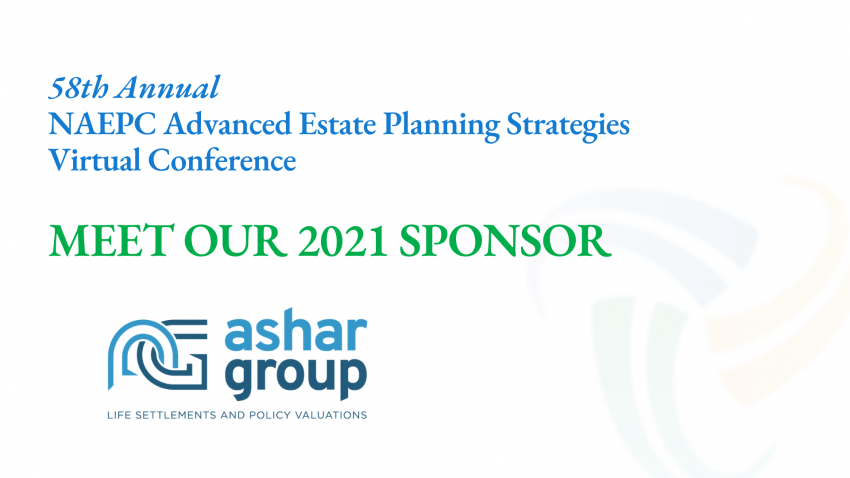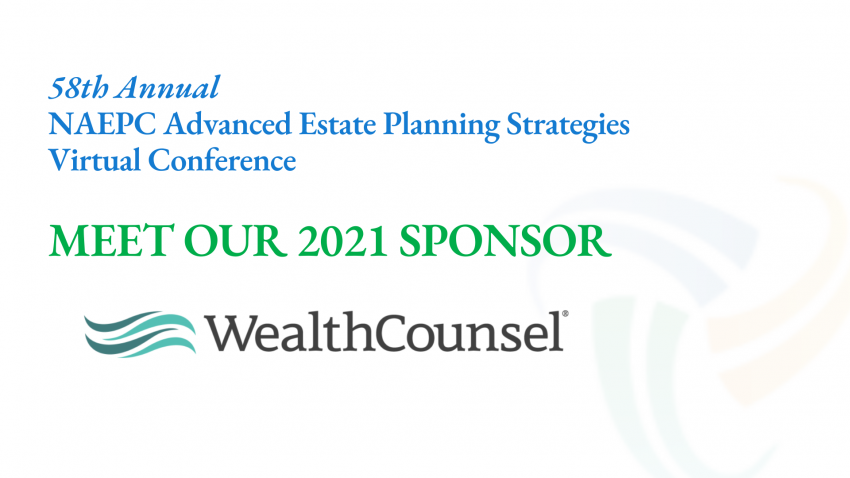 ---
For Supporters
QUESTION: Is this a Zoom meeting?
ANSWER: No. We are using a platform that provides a true conference experience. There is a lobby, main stage, breakout rooms, networking area, and an exhibit hall.
QUESTION: How many attendees do you expect?
ANSWER: We are currently predicting 400 - 600 attendees for some portion of the program from within the legal, accounting, insurance & financial planning, philanthropic, trust and related disciplines.
QUESTION: How much exposure will our firm receive?
ANSWER: Aside from email communication to attendees and prospective attendees where sponsors have a presence and inclusion on the conference website page, the virtual conference platform will feature sponsors and exhibitors within the exhibit hall area of the conference portal and sponsors are featured on a "slider" in the event lobby.
QUESTION: Will attendees visit our virtual booth?
ANSWER: To incentivize booth visits, attendees will be awarded "points" for each booth visited or bonus session attended. At the conclusion of the conference attendees with the most points will win prizes – we call this "gamification" and believe it will generate friendly competition… and more traffic to your booth! Supporters are welcome to contribute prizes for the gamification winners or to conduct prize drawings unrelated to the attendee game from within their booth.
QUESTION: Who sets our booth up?
ANSWER: Your firm will set the booth up, just as if we were together in person. Assistance is available from the NAEPC office.
QUESTION: Will we have access to data analytics?
ANSWER: NAEPC will help you understand your audience and gather data at your booth through chat, polling and Q&A. You will also be provided with lead retrieval, data generated through chat, polling, Q&A, number of attendee visits to booth, material downloads, video play metrics, and live session data.
QUESTION: Do we receive an attendee list?
ANSWER: Yes, one week prior to the conference you will receive an attendee list that includes email addresses. You must use this list in accordance with the Mailing List Usage Policy.